AMARILLO – Online, non-profit university WGU Texas announced today the signing of agreements with Amarillo College (AC), Frank Phillips College (FPC) and Clarendon College that create pathways for the community colleges' students, employees and graduates to work toward a bachelor's or master's degree and further their education at WGU Texas. 
"The College is excited about this partnership with WGU Texas," said Dr. Russell Lowery-Hart, President of Amarillo College. "This partnership gives our students a path to earning a four-year degree without having to leave Amarillo. Our graduates will be able to stay right here in our community with the opportunity to expand their education, and ultimately increase their earning potential."
"Frank Phillips College model allows students to graduate with less debt and fewer unnecessary classes," said Dr. Jud Hicks, President of Frank Phillips College. "We are so excited that WGU Texas has shown an interest in continuing our students' success. Dr. Johnson is a longtime advocate for community colleges and we are pleased that he and the university have reached out to FPC students in this manner."
AC, FPC and Clarendon College graduates, faculty and staff will receive a 5% discounted tuition at WGU Texas, exclusive partner scholarships, valued at up to $2,000, and can select from more than 60 accredited bachelor's and master's degree programs in information technology, business, health professions and teaching. Students transferring from AC, FPC and Clarendon can expect a comprehensive transfer policy. Information about WGU Texas' community college partnerships and scholarship opportunities is available at texas.wgu.edu/cc. 
"WGU Texas is thrilled to expand its presence in the Panhandle by providing more AC, FPC and Clarendon College students a seamless pathway to completing their bachelor's and master's degrees and preparing them to enter some of the state's most in-demand careers," said Dr. Steven Johnson, Chancellor, WGU Texas. "Community colleges enroll almost half of all students in the state—over 700,000 students. This partnership creates an opportunity to link those students to alternative, viable pathways to earning a degree."
WGU Texas' current enrollment is more than 12,500 students, Johnson said. He added that WGU Texas students are in 17 of the counties that make up the Texas Panhandle, including Potter, Randall, and Hutchinson Counties, with students enrolled in 233 of the state's 254 counties. 
About Amarillo College
Amarillo College delivers Associate Degree and Certificate programs that enrich lives, inspire success, and provide an outstanding academic foundation. AC students have success whether they are looking to immediately enter the workforce or proceed to a university.  
About Frank Phillips College

Frank Phillips College (FPC) is a comprehensive two-year community-based educational organization committed to providing high-quality learning experiences and services. FPC serves the rural northern area of the Texas Panhandle. FPC's dual credit program offers high school students the opportunity to enroll in college courses, transferring on average 30 hours. FPC also offers career and technical programs and boasts 100% licensure pass rates among the nursing and cosmetology students for the past several years.
About Clarendon College 

Clarendon College is a comprehensive community college committed to teaching, learning and providing access to opportunities that assist in the holistic development of its constituents and community. In pursuit of this mission the College provides academic transfer programs. Career/Technical Education, student services, developmental education programs, continuing education/community service courses through a variety of instructional methodology, including but not limited to: face to face, distance education, and hybrid delivery. Clarendon College strives to provide diverse cultural enrichment opportunities for our constituents.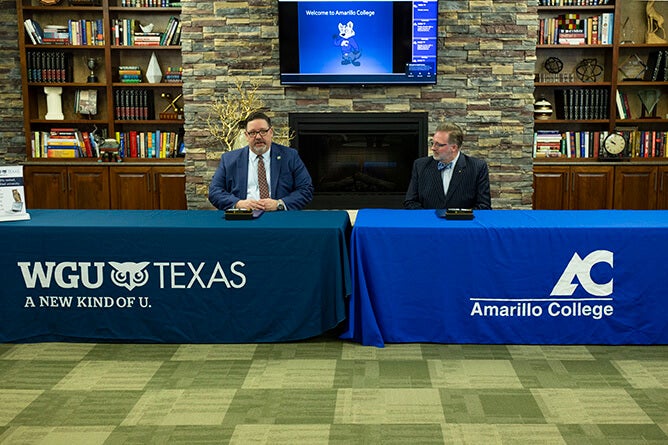 WGU Texas Chancellor Steven Johnson and Amarillo College President Dr. Russel Lowery-Hart.