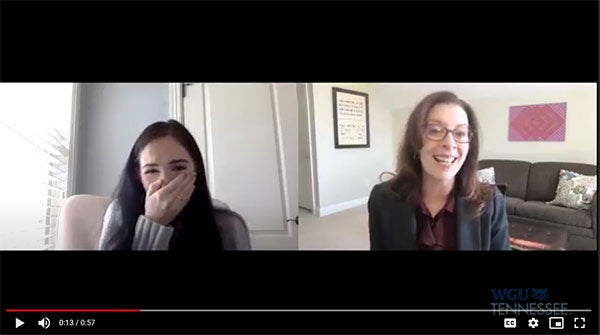 FRANKLIN – WGU Tennessee—a nonprofit, online university—surprised Williamson County resident Macy Willis with a $10,000 scholarship as part of the Tenn-K Scholarship campaign, which will cover up to 75% of her degree program. 
Willis learned that she had been awarded the Tenn-K Scholarship during a surprise Zoom call with Kim Estep, vice president, Southeast Region, Western Governors University. 
"It's always special to acknowledge the hard work of professionals who have chosen to go back to school with our annual Tenn-K Scholarship," Estep said. "Macy is dedicated to teaching the next generation, and we're honored to help her progress toward her goals."
Willis decided to take the leap and earn her bachelor's degree after realizing her love of working with children as a character actress at Walt Disney World. After being laid off from her job due to COVID-19, she moved back home to Nashville and worked with the School Aged Child Care (SACC) program at Heritage Elementary School. One of her co-workers told her about WGU Tennessee's education programs and how feasible it was to work while earning a degree. 
"I'm so happy that I found WGU Tennessee and am able to earn a degree while working," Willis said. "I've learned over this past year that everything happens for a reason, and being awarded this scholarship will be a huge financial relief as I work toward finishing my degree program."
Willis is pursuing her bachelor's degree in elementary education with hopes of becoming a kindergarten teacher in Williamson County. 
Willis is one of up to 10 Tennesseans who will earn WGU Tennessee's 2021 Tenn-K Scholarship. The scholarship—which covers roughly two-thirds of WGU Tennessee's already-low tuition of around $3,500 per term for most programs—is awarded based on students' academic records, readiness for online study, and demonstrated financial need. The deadline to apply is April 30, 2021.