KENT – Today, WGU Washington welcomed Andre Alfred, Partner Group Program Manager in the Cloud + AI Security Division of the Microsoft Corporation, as the newest member of the university's advisory board. Alfred earned a Bachelor of Science, Business - IT Management from WGU Washington and is the first alumni to join the board. A committed lifelong learner, he has leveraged educational opportunities to become a recognized leader in cybersecurity. 
"Andre brings to our board a unique viewpoint as an IT leader and WGU graduate," said Dr. Tonya Drake, Chancellor of WGU Washington and Regional Vice President. "He is an outstanding example of the power of education and will help our university move forward as we continue to serve students across the state."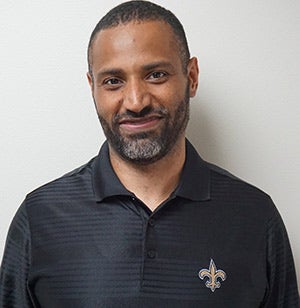 Alfred joined Microsoft's Cloud Security Division earlier this year. In his role, he is responsible for Cybersecurity Governance for Microsoft Azure and Product Development for Operational Technology Security. Previously, he was Vice President, Compute Operations at Oracle.

Like many WGU graduates, Alfred's road to success includes returning to school later in life. He began his bachelor's degree program at WGU Washington nearly a decade after graduating high school. Since then, he has earned an MBA from the Massachusetts Institute of Technology (MIT). Now, he's pursuing a Doctor of Engineering from George Washington University. 
"As a WGU Washington graduate, it means so much to now serve on the university's advisory board and provide leadership that will help so many students going forward," said Alfred. "I earned a bachelor's degree as a midcareer adult and understand how challenging a degree program can be while juggling other, important responsibilities. I also know firsthand how education allows learners to grow in their careers and improve their lives. I will share my perspective as an alum and a business leader and look forward to contributing to WGU's continued success in this state."
WGU Washington's advisory board helps guide the growth and development of Washington's only legislatively endorsed, online university. In addition to Alfred, the board consists of:
Marty Brown, Retired Executive Director, Washington State Board for Community and Technical Colleges (SBCTC)
Al Davis, Principal, Revitalization Partners
Dr. Michael Dunn, Superintendent of NorthEast Washington Educational Service District 101
Dr. Justin Guillory, President, Northwest Indian College
Dr. Jean Hernandez, President Emeritus, Edmonds Community College
Heather Lewis, Managing Partner, Red Maple Strategies
Steven Maheshwary, Director of Economic Development and Governor's Sector Lead, Information and Communication Technology, State of Washington 
Steve Mullin, President, Washington Roundtable
Bill Poppy, Retired Senior Vice President and Chief Information Officer, Virginia Mason Medical Center
Mike Schindler, CEO Operation Military Family Cares and Co-Founder at Integrated Telehealth Solutions WA