This month marks WGU Indiana's 10-year anniversary. To commemorate a decade of providing an affordable, flexible online education to Hoosiers, WGU Indiana will award a $10,000 scholarship to 10 newly enrolled students. Shawntae Taylor, the first recipient of the 10th anniversary scholarship, has been awarded nearly all the financial aid to complete her entire degree at WGU Indiana. 
Shawntae  is an elementary school teacher at Concordia Lutheran Elementary and Middle School in Fort Wayne, and she is currently pursuing a dual bachelor's degree in elementary education and special education (SPED).

Meet Shawntae, and learn how the WGU Indiana 10th Anniversary Scholarship is helping her achieve her dream of a higher education degree.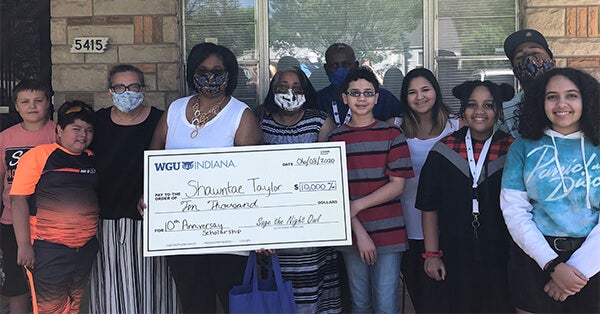 Shawntae Taylor is the first recipient of the $10,000 10th Anniversary Scholarship.
What led you to pursue a degree in education?
Being a mother of two and being active in my children's schools, I saw gaps in the education system and was determined to learn how to fill the crucial holes I was seeing in their elementary education. I am currently working as a paraprofessional and truly enjoy seeing children smile and light up when they are interested in what they are learning. I have always taught younger children and love that I hold a small part of influencing the next generation. 
I have been in the education field for 13+ years and have a passion for helping the youth. Being a professional without a degree, many people have made me feel that my opinions and ideas for the education space are not as important as my colleagues with degrees. I am confident in my ability to contribute to these conversations, so ultimately this is why I decided to pursue my education degree as a working adult. 

What led you to pursue a degree with WGU Indiana?
Being a working mom, going to a traditional four-year university was out of the question for me. WGU offers immense flexibility and will allow me to complete my degree at my own pace. Their affordable model doesn't break my budget and with their competency-based program, I don't need to sit through classes I already have knowledge on through my 13 years in the field of education.
How did you know that teaching was the right career path for you? 
It would upset me when I saw kids that needed extra care with learning and school work, and knew that I would be a good fit to help. I also love that teaching allows me to think outside of the box to find new and better ways that children can learn because not all kids learn at the same pace and in the same way. 
How did you learn about the 10th Anniversary Scholarship? 
My enrollment counselor, Charity Swanson, shared the 10th Anniversary Scholarship with me and told me that I would be an excellent candidate for this scholarship. I had no idea that this scholarship provided $10,000, but couldn't be more thrilled to be the first recipient. 
How will the 10th Anniversary Scholarship support your journey toward earning a degree? 
The 10th Anniversary Scholarship takes so much pressure off of my back. I had been considering going back to school to pursue a degree but didn't have the resources to do so. Receiving this honor means that I will not have to dip into my children's savings and still be able to pursue my dream. 
What was your reaction to learning you were the first recipient? 
When Chancellor Alison Bell presented the scholarship award to me I was in pure shock and amazement. I had originally thought my call with Alison was an interview for the scholarship, so I was blown away when she told me the real reason she had called that day. I am honored and blessed to have been the first recipient of this scholarship. 
What did it mean to you to receive this recognition? 
To receive this recognition is breathtaking and validates what I have wanted to do for so long. It means the world to me that my children are able to see their mother succeed and I hope it gives them strength to hurdle over obstacles they may face down the road as well. I am able to show my children that dreams do come true and no matter who you are, you can make an imprint on this world.  
Applications for the 10th Anniversary Scholarship are open and will be awarded on a rolling basis throughout the calendar year. Applications will close on Nov. 1, 2020, but prospective students are encouraged to apply as soon as possible. For more information on the 10th Anniversary Scholarship and to apply, visit indiana.wgu.edu/10x10.
Watch a video below of Chancellor Bell surprising Shawntae with the scholarship: