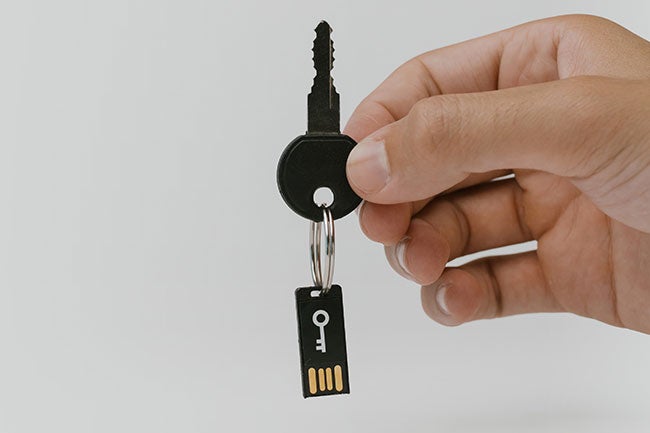 Cybersecurity professionals are in high demand, and it's for good reason. Cybersecurity incidents are on the rise. In 2018 there were 80,000 cyber attacks per day or over 30 million attacks per year. At the onset of the pandemic, the potential for cyber attacks increased further when a mass amount of Americans found themselves working from home offices, sometimes on less protected networks or devices. In fact, it's expected that 36 million Americans will have work-from-home or flex jobs by 2025 – an 87% increase from pre-pandemic levels. 
With that, many Americans are finding questionable emails, text messages and phone calls directed their way. Many of these communications are ultimately urging you to take an immediate action that in turn results in a hacking incident to your personal, private or financial information. Proceed with caution always, but especially now. 

WGU Indiana alumna Tosin Ajayi recently joined WGU Indiana Chancellor Alison Bell on FOX59's IndyNow to share practical tips on how to avoid falling victim to these predatory scams. Find those and more below:
Never click a URL until you've analyzed it. URLs that are shortened, unidentifiable by name or a basic Google search or come with no context should always be avoided and deleted immediately.
Consider the urgency of the email. If the message includes an odd sense of urgency for something you are expecting, it's likey a scam. Do not take action. 
Verify the sender. Many cyber threats are masked as a message from a trusted source like your boss, co-worker or family member. While their name may appear to be someone you know, check the email or phone number associated with it and reach out to the apparent sender to confirm if it was from them or not. 
Be aware of obvious and significant typos or grammatical errors. Odd subject lines, unclear sentences or structure, and obvious errors are all common signs of a scam. 
Requests for personal information should be approached with high caution. Never offer personal or financial information without two-step (or more) verification. Call the entity requesting the information on their verified Google number, reach out to the apparent sender separately, or other methods to ensure it's a legitimate request.
Be diligent in updating passwords. As difficult as it can be to remember too many passwords, it's important to update them often and keep them strong with varying letter, number and symbol combinations.
Clear your browser history and cache often. Your browser can hold a lot of personal and private information. By clearing your history often, you minimize the risk of theft should someone hack into your accounts.
As a result of this growth in cybersecurity threats, it's estimated that there will be 3.5 million unfilled cybersecurity jobs by the end of 2025. This comes as the cybersecurity job market is expected to grow 33% between 2020 and 2030, according to the Bureau of Labor Statistics. WGU's Tech is Everywhere campaign aims to increase awareness of the varying careers in IT, the increased need for IT professionals, and opportunities to enter the IT workforce in an effective, affordable way. 
WGU Indiana's online, competency-based IT degree programs create flexible and approachable opportunities to pursue an IT career. In 2021, WGU was awarded a CAE designation by the National Security Agency (NSA) for its B.S. in Cybersecurity and Information Assurance program – one of many accolades for the IT College. Furthermore, according to WGU's 2020 Annual Report, graduates from WGU's Bachelor of Science—Information Technology program boast a 320% ROI on average, a figure that factors in two-year post graduate earnings compared to student debt. Our return on investment ranks first among other online colleges. Scholarships are available for current and prospective students, including the Tech is Everywhere Scholarship, Cybersecurity Scholarship, and more.