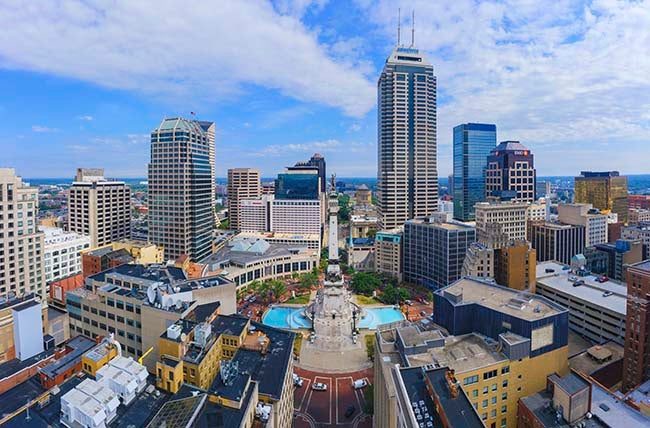 Business job opportunities in Indiana's biggest city are booming.
Birthplace of Eli Lilly & Company and Anthem and home to a Salesforce satellite headquarters, the Indianapolis area boasts a bevy of opportunities for people who want to break into the business world. According to a recent report from the Indiana Department of Workforce Development, management is one of the fastest-growing fields in the state—it's expected to add about 10,000 jobs by 2028.
The booming business sector in the Hoosier State is indicative of a nationwide trend. According to the US Bureau of Labor Statistics, business and financial services jobs are projected to grow 5 percent by 2029, faster than the average for all occupations, creating more than 476,000 new jobs.
Why a business job?
Choosing a career can be difficult even in the best of times. It can be hard to predict which sector is about to boom or bust and how long those peaks and valleys will last. One thing seems certain, however: business jobs will always be in demand.
What do we mean, exactly, when we talk about business jobs? Generally, business jobs are associated with running a business—things like management, administration, human resources, sales, payroll, and accounting.
If you're working a business job, you're often ideally placed for advancement, as entry-level business jobs can often level up into management roles. Chief executive officers and chief operations officers are top-of-the-ladder business roles. Business jobs also tend to pay well, per the Bureau of Labor Statistics: the median annual wage for all business and financial jobs last year was nearly $70,000, nearly twice as high as the median annual wage for all occupations.
Myriad jobs nest under the business umbrella—the management sector alone encompasses numerous roles, such as general managers and operations managers, who direct an organization's daily operations, make policy, and ensure that critical business processes run smoothly. The Indiana Department of Workforce Development expects more than 4,200 new general manager and operations manager jobs to pop up by 2028.
Financial managers, meanwhile, manage the financial side of a business, working in departments like accounting and payroll; that job sector is expected to grow by more than 1,200 jobs by 2028. Medical and health services managers, who work on the business side of hospitals and other health organizations, are expected to grow by more than 1,300 jobs.
What about entry-level business job opportunities? The Indiana Department of Workforce Development projects that there will be close to 2,200 new jobs for medical secretaries—administrative assistants who work in hospitals, doctors' offices, and other health settings—by 2028. The department also expects there to be more than 2,000 new market research specialist jobs and more than 1,600 new accountant and auditor jobs by 2028. The business operations specialists workforce—workers who help manage workflows through all the departments of a company—is projected to grow, too, by more than 700 jobs.
Starting your business career.
If you're looking to start a business career, start with your education. Although some entry-level jobs can be achieved without a college degree, many business jobs, especially those higher up the ladder, require a business degree—and some might even require a master's degree in business administration.
The degree you'll want will depend on your goals. If you want to go into management, look into a bachelor's in business management. If you're interested in marketing, pursue a degree in marketing or marketing management. If you're interested in healthcare management, you'll need a more specialized degree, like a bachelor's in healthcare management.
Our Which Business Bachelor's Degree Is Right for You? e-book can help you look at your personal strengths and find the business degree that works best for you.