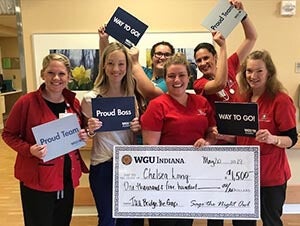 Chelsea Long is one of the many WGU Indiana scholarship awardees.
At WGU Indiana, we strive to help our students get ahead of the game when it comes to funding their education. With National student debt exceeding $1.5 trillion total and reaching 27.5 billion in Indiana alone, scholarships can help minimize the  financial burden that often comes with paying for a degree. Scholarships are one of the many ways that WGU seeks to remove obstacles from the path to achieving goals in education and improving career opportunities.
In 2019, WGU Indiana awarded 473 scholarships to eligible participants, totaling $911,713 in scholarships in the calendar year. In addition to its already low-cost tuition and flexibility, WGU Indiana provides multiple scholarships for its current and prospective students as part of the university's investment in the future of their students.
Below are the 4 types of scholarship opportunities available at WGU Indiana.
General WGU
For many adults, returning to school for any type of degree while balancing the demands of career and family can seem like a daunting goal. Between a forty-plus hour work week, kids' soccer games and family commitments, time is at a premium. Furthermore, there's the financial piece. One look at the cost of a graduate degree is enough to deter most. Luckly, WGU offers a variety of scholarships year to year to ease the financial strain on students, some include:
WGU Alumni Master's Scholarship
WGU Institutional Partner Fund
ITT Transfer Scholarship
New Year Scholarship
Legacy Scholarship
WGU Phi Theta Kappa Scholarship
Harper College Transfer Scholarship
WGU StraighterLine Scholarship
Program Specific

WGU Indiana also offers degree specific scholarships for all four of their colleges, (Teachers College, College of IT, Business College, and College of Health Professionals). Across all four colleges there are 14 scholarships in which multiple students are awarded. In 2019, WGU offered multiple $5,000 Cybersecurity Scholarships totaling $50,000 in support of the growing field of Cybertech and their new Cybersecurity program in the College of IT. Below is a sampling of some of the additional program scholarships available. 
Health & Nursing Scholarships 

ANPD Excellence in Nursing Education Scholarship
ACLC Leaders In Healthcare Scholarship
Linda Knodel Leaders In Nursing and Health Scholarship
Margaret Mcclure Scholarship 
WGU Healthcare Partners Fund
WGU Excellence In Health Information Management Scholarship 
Business Scholarships 

Master Your Future Scholarship
WGU Leaders In Nonprofit Scholarship 
SHRM Leadership Scholarship
I.T. Scholarships

WGU Cybersecurity Scholarship
WGU Leaders In Nonprofit Scholarship 
Teaching Scholarships

Teachers of Tomorrow Scholarship
K-12 Partner Scholarship
WGU NACCTEP Scholarship
Partner

Over the last 10 years, WGU Indiana has fostered many strong partnerships with local and national organizations who have joined forces to help create an abundance of opportunities for higher education. Some of these partnerships include: 
WGU Red Cross Partner Scholarship
FJ Management Impact Fund Scholarship
Western Association of Food Chains Scholarship
WGU Community College Partner Scholarship
WGU Americorps Scholarship
State-Specific

On average, Indiana residents owe $31,375 for student loans. In addition to WGU's already affordable education model, WGU Indiana wants to help minimize growing loan debt by offering Scholarships specifically for Hoosiers. WGU Indiana's state-based scholarships are below. 
Ivy Tech ASAP Scholarship 
South Bend Talent Scholarship 
WGU Indiana Hire Up Scholarship
Scholarships are available to current and prospective students year round. For more information on available scholarships and to apply, visit  https://www.wgu.edu/financial-aid-tuition/scholarships.html.