By Lisa Abbott
From the outside, it resembles most of the other grey-and-white commercial buildings that surround it in the Northeast Commerce office park. But the unassuming structure at 9059 Technology Drive in Fishers, Indiana is anything but conventional.


Despite its humble exterior, the new Indiana IoT Lab houses under one roof the tools, materials, facilities, and technological capabilities one would expect to find in Silicon Valley, rather than the Hoosier heartland. The 24,500 square-foot former manufacturer's warehouse has been transformed into a technological epicenter for the Hoosier state. Its existence is tangible evidence that Indiana is well on its way to becoming both a regional tech hub and national leader in tech innovation. The lab symbolizes the state's impressive and emerging presence in the world of technology and the Internet of Things.

Indiana and the Internet of Things.
Simply defined, the Internet of Things encompasses any device that's connected to the internet; whether machine-to-machine or machine-to-person, says IoT Lab Co-Founder and CEO of Launch Fishers, John Wechsler. Some of the most popular consumer IoT applications include mobile apps that enable remote control to a home thermostat or security system and the popular Fitbit and Amazon Alexa devices.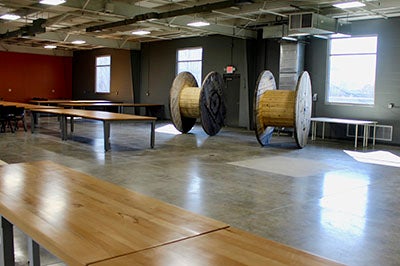 But IoT has myriad applications in industry, as well; from gas pipeline leak detectors to airplane sensors. Research consultant Gartner, Inc. forecasts that 20.4 billion internet-connected things will be in use worldwide by 2020. Forbes cites Boston Consulting Group predictions that $267 billion will be spent on IoT technologies, products, and services by 2020.

Some of Indiana's greatest business opportunities lie in integrating IoT with the state's historically predominant industries. "Our economy is at a critical time where innovation must happen in the heart of Indiana's core industries; manufacturing, agriculture, and distribution," said Indiana IoT Lab Co-Founder and Fishers Mayor Scott Fadness in a news release. "By creating a physical space to allow innovators and entrepreneurs to come together with industry leaders, Fishers will lead the way for our state and beyond."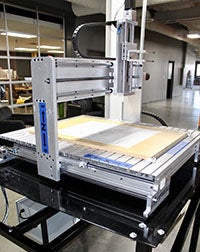 Wechsler agrees. "We are the number one state, in terms of density, in manufacturing jobs, a top state in distribution, and we're one of the top ten ag states. So, those three are the industries we think are the most likely to be radically transformed by IoT," he says. In agriculture, for example, battery-powered, underground sensors could help detect and notify farmers of soil moisture deficiencies. GPS-controlled drones could survey farmland and provide data about crop conditions.

An environment conducive to creativity.
In the Indiana IoT Lab, co-founders Wechsler and Fadness envisioned an open environment where entrepreneurs and business could collaborate on every dimension of new product and application generation; including ideation, cloud data, edge hardware, and development. Consequently, the facility's features are all optimized for the needs of a growing number of Indiana IoT businesses that are pushing the envelope of tech innovation.
From concrete floors that eliminate any possibility of static electricity to 3-D printers to circuit board makers to smart white boards, Wechsler likens the environment to a sandbox, where entrepreneurs have the freedom and ability to create and experiment. "There's a certain environment that optimizes the human brain for creativity," says Wechsler. "There are actually colors that help spawn creativity, for example. So, we built this physical environment to be optimized for design thinking and ideation and creativity."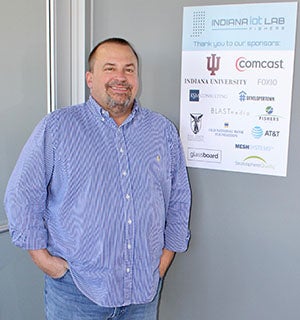 Every aesthetic and practical detail in the building is intentional; from the muted color scheme to the comfortable yet practical furniture. The floorplan includes a design thinking center, a future maker space for wood and metal prototyping, clusters of tables and chairs in collaborative spaces, private office suites, tech-enabled conference rooms, a break room, and a coffee shop. Its ambiance is a unique and visually pleasing blend of industrial practicality and minimalist contemporary décor.

The Indiana IoT lab is a forerunner in the state and, as a joint venture between the City of Fishers and the non-profit Launch Fishers, one of the first public-private IoT labs in the nation. "We're in a leadership position and we have every opportunity, and we should have every belief, that we have the potential to win in this segment," says Wechsler.
Already, the cooperative working space has attracted fifty members and some of the most creative talent and promising businesses in the burgeoning industry of the Internet of Things (IoT), including Clear Object, one of the first companies to commit to the project. A long list of corporate sponsors has provided financial, equipment, and programming support to get the lab up and running.
The lab's founders hope that the facility will be the first of many future locations throughout the state. "We have a great opportunity here, to make this the first of what should be many IoT labs," says Wechsler. "It's my hope that we can connect with other communities that are doing this and create a network, much like we did with the Indiana Coworking Passport. I'd like to see regions focus on their legacy skills–plastics, precision ag, med device, software. We can look at the things we do well in those particular areas and open an IoT lab with a lean towards the legacy skills in that region."
The Indiana IoT Lab is by no means the only component of the state's drive toward a vibrant tech culture within its borders and beyond. It fits well within the scope of Governor Eric Holcomb's Next Level agenda aimed at making Indiana a global leader in advanced technologies. The state will invest $1 billion in innovation and entrepreneurship over the next decade to foster additional growth in this sector. "By investing in public infrastructure that supports entrepreneurship and innovation, we create an environment that's optimal. That's going to keep some of our entrepreneurs here, but it's also going to attract some from out of state."
Next Level funding also incentivizes employers to provide employee training. It supports the state's network of non-traditional and higher education providers aimed at creating a pipeline of skilled talent to fill current and future tech workforce demand. Indiana University signed on as a founding sponsor for the project.
Before the lab had even officially opened, it attracted widespread attention and initiated a steady stream of benchmarking tours from groups interested in exploring the concept. The March 2018 grand opening drew over 500 attendees from the media, business community and public. With the advent of the Indiana IoT Lab, the Hoosier state has taken yet another big step toward establishing its growing reputation as America's crossroad for connected devices and the Internet of Things.