Indiana is still abuzz with the news of Governor Daniels' appointment to the presidency of Purdue University, two years after he established WGU Indiana for working Hoosiers with some college and no degree. The two institutions serve very different types of students, who are often at different stages of life, but both work hard toward making Indiana a better place.
Yes, the two universities have a governor in common, but one of our favorite stories is that of WGU Indiana BSN graduate Christine "Chris" Rearick!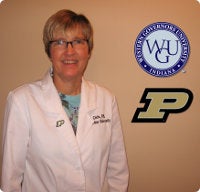 Chris, of West Lafayette, is the coordinator for the Nursing Center for Family Health at Purdue's Nursing School. She wanted to earn her BSN, but with 30 years of nursing experience and an associate's degree, she knew that sitting in a classroom was not what she needed at this stage in her life.
Chris researched several online BSN degree programs and chose WGU Indiana. She had skills and experience that she could demonstrate in order to accelerate her progress through WGU Indiana's competency-based learning model. WGU Indiana is modeled around the needs of working adults rather than first-time college students. The average WGU Indiana student is 37 years old and 70 percent work full time. For Chris, it was the right fit for her needs.
As an adult with family and work responsibilities, Chris required more flexibility than the first-time college students she worked with at Purdue. At WGU Indiana, she could work around her own schedule to complete her coursework. During her second term, Chris' father passed away; she was extremely distraught. But her personal faculty mentor called each week to help support her as she met all of her goals for the term. Chris says she also received support and encouragement from her family.
Because of work and family responsibilities, adults often need flexibility for the times when "life happens." While enrolled at WGU Indiana, Chris began to have ongoing medical problems and ultimately needed a kidney transplant. Through it all, Chris was able to complete her goal of earning her BSN and is now considering going further in her education.
"To me, the best part of WGU Indiana was the ability to go to school while I battled kidney failure. I am hoping to start my master's but must heal first," says Chris.
Like Governor Daniels, Chris highly regards Purdue University and also recognizes that Indiana needs all kinds of universities to reach Hoosiers at all stages of life.