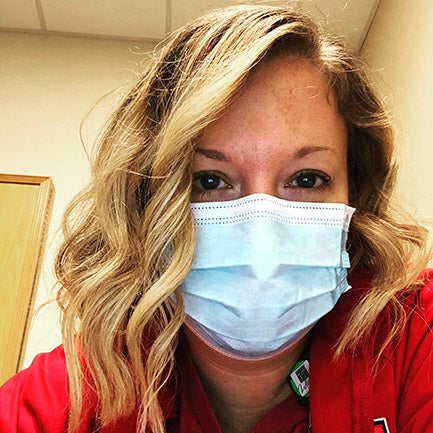 Carrie Brooks is a Nursing Professional Development Practitioner who is pushing the limits working toward her master's degree at WGU Indiana. A combined interest in science and a family legacy of healing others helped lay the foundation for her career in healthcare. She hopes earning this advanced credential will provide her more opportunities to educate others wanting to pursue this rewarding profession. As she juggles long hours at work, raising two children and drilling down on a nursing degree with a focus in education, WGU Indiana made this venture possible because of its affordability and accessibility to students. Learn more about Carrie's journey below.  
What led you to pursue a degree from WGU Indiana?
I wanted to challenge myself professionally and I knew that pursuing a secondary degree was a good way to do that. I had researched different MSN programs, but knew several co-workers who had completed or were currently in the MSN track at WGU. I had heard how convenient, reasonably priced and enjoyable the classes were. After hearing that, I knew I wanted to pursue a degree with WGU.
What is your current career pathway/role?
I currently work at IU Health Arnett Hospital as a Nursing Professional Development Practitioner. One of my main responsibilities is to coordinate and facilitate new Registered Nurse and Patient Care Assistant orientation and onboarding. I have been in this role for almost two years.
What drew you to a career in healthcare? 
I am a people-pleaser, through and through! There is something fulfilling about being able to help someone, even in the smallest way. I love nursing because it is constantly challenging, and you literally learn something new every day. I was drawn specifically to nursing because there are so many different kinds of jobs, patient groups and environments that I can work with as a RN.  
How has this past year changed your perspective on a career in healthcare?
This past year was challenging in so many ways. Everyone was and still is tired. I think working through a pandemic was very humbling. It was a harsh reminder of how delicate human life is. However, I think it was also a reminder to those working in healthcare how simple gestures, touch and just listening can make someone feel so much better, especially when we had very sick patients who couldn't even see their loved ones. I think we all hold on to and cherish our families and friends a little tighter after the past year.
How have you seen the benefits of WGU's competency-based program in your colleagues who also earned degrees here?
I know that my coworkers who have completed the WGU competency-based program and I all agree that we really like the program format. It's awesome to be able to actually work on relevant assignments that are easily applicable to what we do every day for our jobs. Instead of memorizing facts and being tested exam style, I feel I learned better when I was able to apply the concepts to the assignments.
How has your life experience shaped your career ambitions?
I've always known I wanted to work in healthcare just based on some of my interests in science and just the human body in general. My grandma really encouraged me to become a nurse. She was a nurse in World War II and a lifelong Red Cross nurse, so she really helped motivate me into this career path.
What are your short- and long-term goals? How has WGU Indiana supported those goals?
My short-term goals include finishing my MSN within the next 10 months, as well as surviving the day-to-day challenges that the COVID-19 pandemic continues to present. Long-term, I'd love to become a faculty member at my alma mater, Purdue University. 
What advice would you give someone who might feel called to a particular career path but not sure where to start? 
I would say to seek out those who you might know who work in healthcare and get their honest, candid opinion. I know my hospital is also very open to offering shadow experiences, and I think that is super helpful to determining if that career is worth pursuing. And honestly, don't shy away from a good challenge! You are more capable than you give yourself credit for.
Anything else you'd like to share with fellow WGU alum, students or prospective students?
I am a busy mom who works full time, raises two children and shuttles said family around to sporting events and other extracurriculars. The WGU MSN program fits perfectly into my lifestyle! The instructors are friendly and responsive, and my mentor has been so helpful in helping me plan my degree. I highly recommend this program!