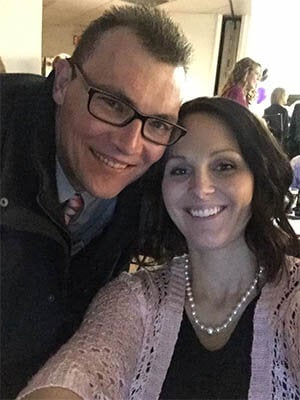 Cassandra with her husband, Clint.
WGU Indiana has provided a successful foundation for the career paths of many of its graduates like Cassandra Martin of Alexandria, Indiana. Martin was recently awarded the WGU Loves Nurses Scholarship and plans to use it toward earning her Master's of Science in Nursing (MSN) from WGU Indiana's competency-based nursing degree program. She earned her Bachelor's of Science in Nursing (BSN) from Ball State University in 2006 and currently works in labor and delivery at Community Hospital Anderson. 
Meet Cassandra and learn more about how her personal experiences have led her to a career in nursing and to pursue an MSN with the educational guidance from WGU Indiana: 

Describe your role as a patient care coordinator within labor and delivery at Community Hospital Anderson. I am in charge of doing acuity, dealing with conflicts, answering questions, and [handling] different audits. I love learning from other people.  I think every time someone asks me a question it makes me think about that area differently and more in depth.   
How did your experience with caring for your sister and father lead you to where you are today – both personally and professionally. My dad became ill when I was 15 but really my journey began before that. My oldest sister was paraplegic, and I always watched my mom care for her. I watched her pack pressure sores that went all the way down to the bone, watched my mom cath her and transfer her. Later on when I was in high school, I became an attendant for her and her roommate and helped them with bathing and transferring. She was in and out of the hospital all the time, and it really sparked my interest [in healthcare] from a very young age.  When my dad got sick, it made me consider different areas of healthcare. My other sister that had battled with drugs cared for herself, and my main concern were her children. I think all of [these experiences] ultimately made me realize that I wanted to get into the profession of healing.  

What prompted you to choose WGU Indiana? It was more affordable than most other schools I looked into, and I really liked the flexibility. I'm able to complete my degree on my schedule, which makes it more comfortable and efficient for me. 

In addition to earning your MSN, you have goals of becoming a nursing instructor. How is WGU Indiana helping you reach that goal? I am already starting as a clinical instructor at Anderson University this [fall] semester.  After I graduate [from WGU Indiana] with my master's degree, I hope to become a full-time teacher.

What advice would you give someone inspired by personal experiences to pursue furthering education with WGU Indiana? I think no matter what your background story is, if you have a desire to further your education you should do it.  Don't let fear stand in your way.  WGU makes going back to school easy and affordable for just about anybody.  Take the leap and just go for it!  All of the hard work will pay off and be worth it in the end.