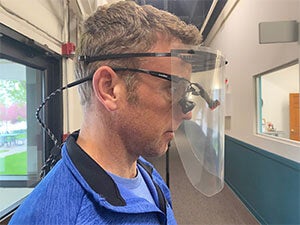 The onset of the novel coronavirus pandemic has been felt by communities across Indiana and across the world. As Fred Rogers famously reflected, "When I was a boy and I would see scary things in the news, my mother would say to me, 'Look for the helpers. You will always find people who are helping.'" There are countless ways to make a positive impact, but especially during times of crisis. WGU Indiana College of IT student and Roachdale, Indiana, resident, Drew Bottorff, is one of the helpers—leveraging his unique skills as his community comes together to keep each other safe and healthy.
Through fellow coworkers, Drew recognized the need for face shields as protection against the virus at his local hospital. To fill this need, he has been 3-D printing hundreds of face shields for front-line workers in his community. Today, Drew has printed more than 500 customized face shields for doctors, dentists, and others in his area.
Drew says, "Everyone's just been so thankful that I've been able to provide them at a lower cost than online."

Drew, like many other WGU Indiana students, is working while completing his degree from the WGU Indiana College of Information Technology. His dedication to his career, education and community's safety is an inspiration.

Western Governors University (WGU) has more than 22,000 nurses working on the front lines of COVID-19 nationwide. Whether it's in a hospital, classroom or 3D printing lab, there are countless WGU Indiana students and alumni, like Drew, who are dedicated to helping those who are working tirelessly to keep us safe.