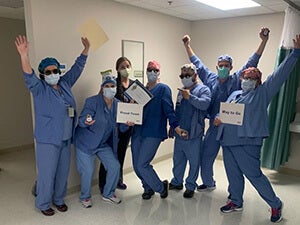 Kayla Kellams, WGU Indiana graduate and MSN FNP student, celebrating her Alumni Master's Scholarship award with colleagues.
You are the first FNP program student for WGU in the whole country; what drew you to this degree program? How did you first learn of this new program?
When I was first exploring options, I wasn't originally aware that WGU Indiana was offering a Family Nurse Practitioner (FNP) program. I called to speak to an enrollment counselor in December 2019 to explore a Master of Science in Nursing (MSN) degree through WGU Indiana and then found a post master's program for my FNP degree. I intended to go this route because I loved the way the WGU programs are set up and was hoping to be able to accomplish some of my program through them. So, to say that I was excited about learning from my enrollment counselor that there was a FNP program in the works at WGU Indiana would have been an understatement. When speaking with the enrollment counselor, she said she would have more information in a few months, if I could wait. I was still researching options at that point, but I definitely wanted to wait and learn more about this program! So, you could say it was just really good timing that I happened to learn about the program; timing that I am very grateful for.

WGU Indiana just recently launched the FNP program—what has your experience been regarding the need for specialized FNPs?

Until starting my research, I honestly didn't even realize that FNPs could specialize through different programs. After all of my research, I concluded that the Family Nurse Practitioner route was best for me. In my rural community it provides me with a wider variety of job opportunities. I do hope to specialize in the geriatric population at some point in my career as I feel it's an underserved specialty across the board.

What first attracted you to complete your education with WGU Indiana? 

I first learned about WGU Indiana through work. They had representatives come and do "lunch and learn" sessions a few times at our hospital and also a co-worker had received her MSN in Education through WGU, so I got a lot of information from her. I loved the affordability of the program and the fact that you could go at your own pace. I am very driven and task oriented and this program was perfect for my learning styles.

As a recipient of the Alumni Master's Scholarship, how will this help you accomplish your higher education and career goals?

I am so grateful for the Alumni Master's Scholarship. Even with the affordability of the program, every little bit helps. I love that WGU has so many scholarship opportunities for its students. I was also lucky enough to receive one when I went for my BSN. Both scholarships were greatly appreciated and helped to relieve some of the financial burden that furthering education creates. 

Do you have a favorite memory with WGU Indiana? 

I would say my favorite memory would be the fact that I was able to accomplish my BSN in less than 12 weeks. I worked very hard to accomplish that and was proud to be able to say that I was a BSN graduate. I also appreciated the fact that between my scholarship and tuition reimbursement through my employer, I was able to earn my degree for free, thanks to the low-cost tuition and six-month terms that WGU Indiana offers.

In your opinion, what makes WGU Indiana's College of Health Professions online different from other nursing programs? 

What drew me to the program was the fact that you could work at your own pace. I wasn't exactly sure how an online program would operate, and this helped to ease my reservations, considering I would be working full-time and had a young son at home. I hadn't seen any other programs offering this type of structure. I also really liked the mentor support that WGU Indiana has.

As you pursue your FNP degree, what are your ultimate career goals? 

My hope is to continue at my current employer and work as a FNP in some form and continue to learn from some of the amazing Family Nurse Practitioners and family practice physicians that we have at our facility. Eventually, I do hope to specialize in geriatrics and potentially see patients in local long-term care facilities. My hope is to always be able to provide care to those in my local community. 

How has the pandemic affected this process for you? Has it brought to light any areas in healthcare that you're more eager to pursue?

The pandemic has most definitely changed the way our day to day lives operate, but as a student, the great thing about the online curriculum is that it hasn't affected that process for me. Interviews for certain classes have had to be done via Zoom or telephone conversations. It has also certainly brought research to the forefront of the healthcare field. I wouldn't say research would be an area I would like to pursue, but I do enjoy reviewing the research and seeing the new developments. I am thankful to all of those on the front lines and those behind the scenes. 

What advice do you have for current WGU Indiana nursing students? 

Personally, my best advice is to utilize your instructors and mentors. They are there to help you succeed. My mentor was amazing for my BSN and now also for my FNP program. They are like having accountability partners and are there to help you establish and reach your goals.

What is one thing about you that people may not expect or know?

I was a high school dropout. I quit school towards the end of my freshman year and then decided to leave officially a few months into my sophomore year. There were several personal reasons that affected this decision, but in the end, I think there was a greater plan for me. I went on shortly after and got my Certified Nurse Aide (CAN) license and began working full-time in a long-term care facility, where I found my passion for geriatrics. I then went on to get my GED and graduated with honors, thanks to an amazing teacher, Connie Bailey, who encouraged me and had faith in me the entire way. After receiving my diploma, I was then able to pursue my nursing career.

Where do you currently live and work?

My hometown is Carlisle, Indiana, and this is also where I currently reside. I have lived in Carlisle for most of my life, and I love our small-town atmosphere. I lived in Kissimmee, Florida, for a short time in my childhood, and the pace of small-town living has always appealed to me. Friends are like family and you know you can depend on your neighbors. 

Where do you currently work and in what position?

I currently work at Sullivan County Community Hospital (SCCH) as a circulating Registered Nurse (RN) in the OR. I have been there since graduating with my RN in 2011. I have currently been in the surgical services area full-time for the past five years, as a circulator and recovery room nurse. I also am cross trained in the outpatient surgery and infusion department, where I normally work a day or two a week.