Laura Cassidy has undoubtedly found her passion in life. After years of professional experience, from factory work to K-12 classroom support, she's now pursuing an elementary education and special education degree at WGU Indiana. Her love for education and helping kids grow academically, personally, mentally and emotionally runs deep.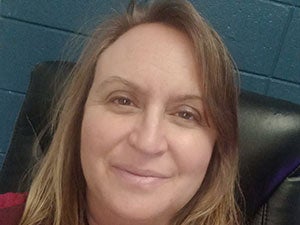 Growing up homeschooled in Northern Indiana and as the oldest of six kids, attending a traditional college after high school didn't feel like an option. Instead, she began her career in a local factory where she gained confidence in her leadership abilities and versatile skills. Laura went on to start her own business that worked as an extension of the factory she'd spent years working within. Her resume of skills and experience grew tenfold. 
However, the business eventually ran its course, and she found herself starting over. It was her opportunity to pursue something new supported by a deeper passion: helping kids, especially those in need of extra assistance. 

She began working with adults with disabilities and quickly grasped how to develop skills and support the goals of these individuals. This fresh start sparked her interest in special education and led her to get her associate's degree at a local community college while also substitute teaching in her local K-12 school district. She then moved to an elementary school to work in a classroom that helped students with Emotional Disabilities (ED) and felt she had found her niche.

In this blog post, Laura shares what led her to pursue her Bachelor of Arts, Special Education and Elementary Education (BASPEE) degree, what she hopes to accomplish in this new chapter of her career pathway, and her thoughts on today's teaching workforce. 

What led you to pursue your BASPEE degree with WGU Indiana? 

Part of my inspiration for pursuing this type of degree is my oldest son. He's on the spectrum of autism, and I've watched him grow so much (and quickly, I may add) with support in the special education classrooms. His teachers have made a difference in his quality of life. After years of working in the classroom, I was ready to explore how I could earn my degree economically and quickly. I had a couple of co-teachers within the district that had graduated from WGU, including one of the SPED teachers I worked with. Another one of my colleagues who graduated from WGU encouraged me to just go for it. She told me I was made for this. 
From there, I learned about specific programs with scholarships and financial aid. It made sense, and it financially sat well with my family. It's come full circle, because I'm in my last stretch of earning the degree and doing student teaching right now, and my host teacher is that same WGU alumni who told me to do it. It's really cool she gets to be a part of this closing journey with me.

Tell us about your career goals upon earning your BASPEE.

I'm open to working in Gen Ed or Special Ed classrooms. I've been in Special Ed for so long, and a large part of that is dealing with behavioral aspects. I have a lot of experience with that, and I'm good at it. I've also subbed K-6th for 12 years, and I'm really skilled in that as well. Long term, I want to touch as many lives as I can and encourage kids. The Special Ed class I'm in right now has some students I've known since Kindergarten, and to see how they've grown – physically and emotionally – has been so rewarding and encouraging. Knowing I was part of that when they were younger and seeing that side so early on is really cool.
How has competency-based learning and dedicated program mentors contributed to your success?

[My WGU Program Mentor] Melissa has been a perfect fit for me. I couldn't have done this without the mentorship support WGU provides. She was very intuitive about what I needed and how to go about it. She was beyond encouraging. My family has had a tough past year or two, and Melissa was always there for me. That mentor element is what makes this program very successful. It's essential. I can't stress enough how much students should treasure this because it makes you feel connected. During the hard times with life, when I felt like giving up and was so exhausted, Melissa kept reminding me I could do this, and that's all I needed. She was the perfect resource.
What characteristics do you hope to embody as a future teacher?

Kids remember their teachers. I worked with a Special Ed teacher that was called "the child whisperer." She could honestly talk to anybody and was their calm in their storm. I think I do that in some ways, but I would love to perfect that. The second thing I've learned is to just be that inspiration for kids. We have middle schoolers who don't have a lot of self-esteem or self-confidence. So being that motivation, not just academically, but also helping them realize who they are and how awesome they are. I want to be that light and help them realize their potential. Sometimes, it's just being there for them.
What is your outlook on the teaching profession as it faces shortages and continues to evolve? 

I would love to see competency-based learning as more of a universal model. It supports learning at different levels of education. I've been doing some research on something that I think I see the educational field gravitating towards. Each child moves through the lessons at their own pace. The first instinct people have is they're going to get behind, but what happens is that the teacher is more able to teach successfully because students come in, and they get their materials and can self-start. It builds their self-esteem and self-motivation. It can free up some of their class time to do more one-on-one and small groups to give specific help to students where they need it most.  
Anything you'd like to share with others in similar shoes? 

I think that recognizing that it is going to be hard is important. It's not easy pursuing education while having jobs, families, etc. You have to find balance and stay organized. I really tried to dedicate myself to what I needed to accomplish each day. Sometimes you really have to talk yourself up and remind yourself, I can do this! WGU makes it doable, and the supports are there. I honestly can't stress enough how worth it, that it has been.