Natalie Guzman, Senior Vice President, Corporate Communications Director for Fifth Third Bank, has been a strong advocate and ambassador for WGU Indiana for  many years. (Just check out her recent Alumni of the Month interview.) In June 2021, Natalie received a Distinguished Alumni Award at the university's inaugural Community of Scholars Event.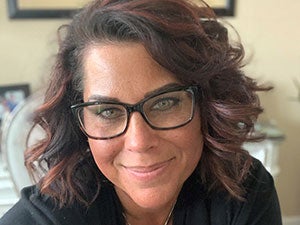 She continues to use her master's degree in organizational leadership and management to grow in her role at Fifth Third, a longtime corporate partner of WGU. 
In this blog post, Natalie shares what led her to pursue her master's degree, what she's witnessed within her team due to the pandemic and advice she'd give to others following a similar career path. 
What led you to pursue your master's degree in organizational leadership and management with WGU Indiana? 
I've worked for Fifth Third Bank for nearly 20 years and in 2014, WGU Indiana and Fifth Third made available a tuition discount for employees so they could more easily pursue bachelor's and master's degrees. Through this partnership, I knew the value of earning a degree from WGU and I'd always wanted to go back for master's. However, I found myself stuck on finding the right time to pursue my advanced degree and I always had an excuse for why the time wasn't right. Former WGU Indiana Chancellor, Dr. Allison Barber, was a friend of mine and told me WGU Indiana was designed for people like me and the flexibility of the program would make my pursuit of a master's degree possible. After several conversations with Allison and realizing there would never be a perfect time, I made the leap and enrolled. I met with my WGU mentor in Jan. 2019, laid out my course plan and never looked back. I graduated in 17 short months– October 2021. 
The selling point, for me, was the competency-based learning model, which means that you can come into the program where you are. The curriculum is still challenging, but it allows you to apply what you already know. (Everyone is busy , and this learning model was a huge time saver for me.)

What lessons have you learned throughout the pandemic that have helped you evolve in the way you approach your job? 

I work with an incredible team of people and throughout the span of the pandemic, I've seen their resiliency and nimbleness. The communications team I lead is the bridge from the decisions that are happening at the executive level to those being shared in a timely, efficient manner with employees. When communicating pandemic updates, it has been critical to communicate with transparency and frequency. 
Sometimes it's difficult as communications professionals to know what the value is within a company because our function doesn't contribute directly to the bottom line. However, through the pandemic,  we've found a silver lining: our communications team has  provided, and continues to provide, great value to our company, shareholders and employees through meaningful communications and we're stronger now than ever before. This global crisis has been one of the most "human times" we've gone through; the human spirit really came through and I've seen great vulnerability among the entire team. Moving forward, I will continue to use these shared experiences to grow and evolve as a person and professional — and I know my team will as well.

What advice would you give to others following a similar career path?

WGU Indiana has the flexibility and affordability to work for your life, no matter what that looks like. As a result of pursuing higher education, your family, friends and work will all be better for it. As for WGU Indiana's program, mentors are the secret sauce to success! They are truly built-in accountability partners and I'll never forget mine and how she supported me throughout the program. 
I attended a traditional four-year college for my bachelor's degree and certainly loved my undergrad time. But to be honest, I didn't have the maturity level at that time to know exactly what I wanted to do with my career. But now, after working for several years, I knew that WGU was going to be a better fit for me as a working adult. As noted, competency-based learning made a lot of sense for me as I could be a bit more in control of my destiny, and could go through the program as fast or as slow as I needed. 

What I learned during my time with WGU Indiana could be immediately implemented into my work, which was advantageous. For prospective students who work for a company that will support them in furthering their education, it is also advantageous for the company as they will see an immediate return on investment. If you have the desire to continue to learn or grow as a person and professional, definitely consider WGU Indiana.