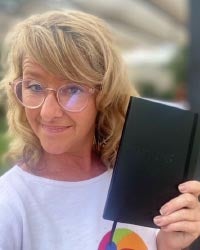 Put your knuckles into the ground that is your life and drive! That's the mantra for HR Management student Rhonda Hawk that's pushing her toward the goals she set for herself. An Indiana resident, Rhonda has coupled her position at an Indianapolis middle school with the pursuit of her bachelor's degree in human resources, utilizing the flexibility of WGU Indiana's online programs as she aspires for a financially stable future. Rhonda looked after her children at home for most of her life, but she isn't letting her background hold her from attaining a lucrative career so that she can provide for her family.
Why did you choose to pursue a degree from WGU Indiana?

My boss informed me of the program. He has since moved to an HR director position at the district where I am currently employed and mentioned the chance to pursue opportunities there. I have four kids—a student at a nursing school in Mississippi, one in an engineering program at Purdue University, a newly graduated social studies teacher at the school where I work, and a student at WGU in education—I need some hefty college funds! So, I decided to get an education from WGU Indiana to pursue a better career opportunity, which would contribute to  the financial well-being of my family.
My husband has a chronic illness and could potentially  transition into positions that offer less, so I want to put myself in a position to provide more for my family. The online format at WGU Indiana makes it convenient to pursue my education while working.
What led you to pursue a Bachelor of Science degree in Business Administration and HR Management?
My battle as a cancer survivor has influenced why I try to be a helpful resource to my coworkers, acquaintances and those around me. I've spent my life looking after my four kids, so naturally, I channel my concerns toward others and see that others' needs are met—I try helping others as much as I can. I believe that we all need a servant's heart, and a degree in human resources seemed to be the right career path for me to pursue. Having stayed at home for years, I felt confident at the opportunity to pursue a career where I could apply my personality and values. 

What challenges have you faced in your pursuit of leveling up in your career?

I feel a pressing sense of urgency due to my situation—the need to secure a better career opportunity, juggling my job and school, and my husband's deteriorating health are all factors that are causing some severe strain at this moment. Because I'm in my 50s, trying to slow my roll and squeeze the most out of my time at WGU Indiana is what I'm striving for. My goal in the short term is to finish my education quickly and efficiently, and WGU has afforded me that opportunity while continuing my work.
What advice would you give someone who might feel called to a particular career path but is unsure where to start?
Start by researching—research, research, research, then jump! Connect with professionals, consult with counselors, family members and their connections who are in professions in which you are interested. If you're making informed decisions about your career pursuits, whichever discipline it may be, that's already putting you ahead of your competitors and in a position to succeed.