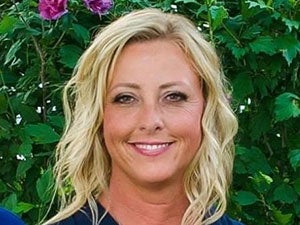 The phrase, "You got this," is more than just a saying you'll find on Traci Henn's phone, agenda and desk. It's a mantra she says she uses on a daily basis to push through any challenge that comes her way as a special education teacher. It was also what helped her to cross the finish line with a bachelor's degree in K-12 special education from WGU Indiana in 2015. Before completing her degree, Traci worked as a credit recovery paraprofessional at her local high school, which helps students catch up in their courses if they've fallen behind. Her interactions with these students inspired her to go back to school and complete her own education. 
Throughout this experience, she juggled a full-time job and raising a family, but the ease and flexibility WGU Indiana offers makes it possible for students like Traci to reach their goals. Traci was also recently named the 2021 Special Education Teacher of the Year by the Indiana Council for Exceptional Children. This honor is a testament to her grit, persistence and passion for leaving a lasting impact on students. Learn more about Traci's journey below.  
What led you to pursue your bachelor's with WGU Indiana?

I was looking at colleges to finish my degree and, after researching WGU, decided that it would allow me to continue my education while working a full-time job and taking care of my family.

Tell us a little bit about your career journey and how you ended up in the role you are in now.

I took off work to raise my two sons. When my youngest started middle school, I began working as a credit recovery paraprofessional in high school. I enjoyed working with a wide variety of students and helping them to complete their courses. At that time, I decided to finish an item on my bucket list to complete my degree. WGU offered special education, which fits into my passion for helping students.

What does the 2021 Special Education Teacher of the Year by the Indiana Council for Exceptional Children award mean to you as a special education teacher and mentor to those around you?

I was honored to be selected as the Special Education Teacher of the Year. As I listened to Tara Rinehart, the president-elect, read the nomination form sent in by one of my fellow teachers, I was thankful and humbled by the words. This award means that I have had a positive impact on my student's and co-worker's lives. I believe that all students can learn, and our job as teachers is to adjust our teaching to meet individual needs. It is not easy, and it takes a lot of preparation and persistence. I enjoy mentoring and coaching teachers in best practices so they can use it to help their students reach their full potential. This award reminded me that I work with amazing teachers, administrators and support staff. It is with their support that I can be a great teacher.

This past year has looked different for many, but especially in the classroom. How did you adapt personally to maintain a safe, meaningful learning environment for your students?

The COVID-19 pandemic forced us to change how we teach. I was fortunate that my school corporation had clear guidelines for staff and students regarding social distancing, mask protocols and handwashing procedures. We distanced ourselves as much as possible in the classroom. I talked with my students about the virus and explained that we wanted and needed to stay in school. To do that, we all had to do our part to keep each other healthy. I felt that staying positive in front of my students was important and tried not to complain about the mask rules or having to constantly use hand sanitizer! During the height of the pandemic, virtual learning became normal and allowed my students to continue with their education while being safe at home.

What are three key takeaways from your education experience with WGU Indiana that supported your career readiness?

The skills that I learned from the education courses helped me prepare for my teaching position. While completing courses, I became frustrated by having to meet the required score on all sections of an assignment or a project's rubric to pass. However, once I began creating lessons and assignments for my students, I realized that we should want them to show competency on all sections, and if they don't, it is okay to let them try again without punishing them with a lower grade. I had a great WGU mentor to talk to about the courses and how they were going. She helped me navigate the highs and lows of taking college courses along with the day-to-day demands of a family and job. In addition, she taught me how to be a good mentor to my fellow teachers.

What advice would you give someone who might feel called to a particular career path but not sure where to start?

I would ask them if the career path they are thinking of makes them happy and excites them when they think of the possibilities. If the answer is yes, they should find a person working in the field and interview them, asking questions about the job requirements, day-to-day tasks, typical working hours, and how it affects their social, emotional and home life.

Anything else you'd like to share with fellow WGU alum, students, or prospective students?

Making professional development a priority is vital to keeping up with changes in your chosen profession. Never stop learning. Find your mantra. I learned early on in my career that I needed something to refer to when situations become stressful. Mine is "You Got This." I have it written in my agenda, on my phone screen and a plaque on my desk. It has helped me stay grounded and reminds me that I can take care of anything that comes my way.