According to results included in the 2018 Indiana Women in Tech (IWiT) Benchmark Report, men make up the majority of tech positions, with males representing 66 percent and females representing 34 percent female of employees. WGU Indiana aims to help boost the number of females in tech fields. At the 2018 Indy Women in Tech Summit, WGU Indiana awarded $16,000 in tech scholarships and announced the newly created WGU Indiana Women in Tech Scholarship.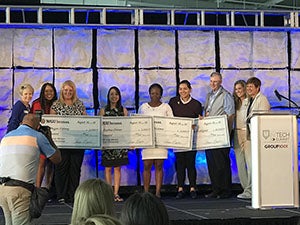 WGU Indiana Chancellor Allison Barber awarded a scholarship for up to $10,000 to Ivy Tech Community College IvyWorks student Liliana Varela-Rodriguez. Varela-Rodgriguez plans to pursue a bachelor's degree from WGU Indiana's IT College. She currently is a school-to-work intern at Cummins Inc., where she creates software solutions for the company's engineering unit. She also has worked as an intern at the Indy-based cybersecurity firm, Pondurance. Ultimately, Varela-Rodriguez wants to work full time in a cybersecurity position.

The university also awarded $2,000 scholarships to all three of the other scholarship applicants, Megan Dabney, Adenike Oriolowo, and Sophea Chhun.
The newly created $2,000 Indy Women in Tech Scholarship is open to any woman seeking to begin or advance her career in a tech field by earning a bachelor's or master's degree from WGU Indiana's IT College.
"We congratulate these students on receiving the WGU Indiana Indy Women in Tech Scholarship and applaud the university for supporting their academic pursuits in tech fields," said Jody Dedon, executive director of IWiT. "IWiT's vision is to empower current and future generations of women in tech to meet the need of Indy's growing tech workforce through strategic partnerships to support and mentor women. Fulfillment of that vision depends on the valuable support of businesses and institutions like Ivy Tech Community College and WGU Indiana. "
All four of the scholarship recipients participate in IvyWorks at Ivy Tech Community College, a program that gives students the support they need to earn tech industry-backed credentials and build a career in Indiana's fastest-growing tech economy.
"Ivy Tech is proud of our students in the IvyWorks program and thrilled that they have been recognized for their hard work and academic achievements," said Sue Ellspermann, president of Ivy Tech. "More than 145,000 Hoosiers will be needed to fill information technology positions by 2024. Through our valuable partnerships with Indy Women in Tech and WGU Indiana, we are connecting more women with training for high-demand tech fields, ensuring they have the right skills to succeed in these careers and supplying Indiana businesses with the best talent."
The Summit also featured keynote speaker and 2017 WGU Sage Talk lecturer Reshma Saujani, founder and CEO of Girls Who Code. A panel discussion addressed results from the IWiT Benchmark Report and the challenges and unconscious biases that women often face within the tech community.
For the second consecutive year, WGU Indiana has proudly sponsored the Indy Women in Tech Summit, which was held in conjunction with the second annual IWiT LPGA Championship at the Brickyard Crossing Golf Course.