By Jackie Lopez
My favorite aspect about WGU Indiana is that even though we are an online institution, we value our students as individuals with real-world challenges and responsibilities. We realize that many of our students specifically chose WGU Indiana because our model allows time to earn a degree in the midst of making sure that daily personal obligations can still be accomplished.
As a personal liaison between WGU Indiana mentors and Chancellor Barber, I am often approached with stories of students facing troubling life situations that have created barriers with their obligations in school. Thanks to funds from charitable private donors, we have been able to help over thirty students continue their degree plans when they otherwise would have been forced to drop out or take term breaks.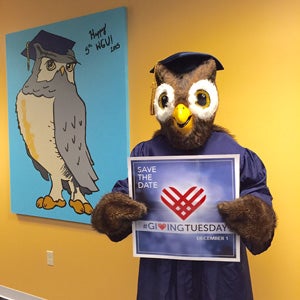 Not long ago, a Program Mentor approached Chancellor Barber and me with an incident regarding one of her students who had been burglarized and had her electronics stolen. Without a personal computer for coursework, this student was left with very few options to continue her degree plan. Thanks to our high touch fund, we were able to purchase the student a new laptop and personally deliver it to her apartment. Upon delivery, we sensed the student's gratefulness and could hear her squeal with excitement through the closed door on our way out. This instance is just one of many where I have been fortunate enough to aid in the process of helping well-deserving students continue reaching their goals. While I admit that my employment for WGU Indiana makes me a bit biased, I cannot imagine many other universities take the time to listen and personally help students in need.
In light of the season of giving, WGU Indiana has decided to participate in "Giving Tuesday" by publicly launching our "High Touch Fund" this December 1. "Giving Tuesday" is a day dedicated to philanthropy and donating to charitable causes. The High Touch Fund will parallel the concept of Giving Tuesday by allowing interested individuals to lend a helping hand to our students who are unable to continue their coursework due to personal hardship.
As one of our recipients so graciously mentioned, "Your kindness is helping me get one step closer to graduation." If you are interested in donating to WGU Indiana's High Touch Fund, please click here.