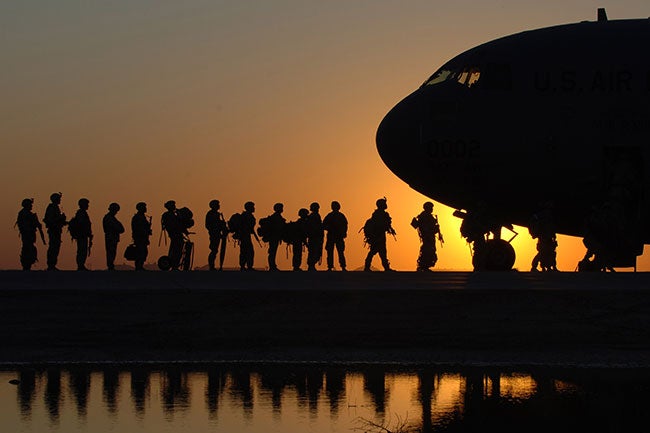 Memorial Day is a moment to reflect on the countless sacrifices our service members make every day to protect our country. Active military individuals and veterans often have unique barriers when seeking civilian jobs, such as a lack of support and resources when it comes to seeking higher education and new career paths. At WGU Indiana, our mission is to serve students from all backgrounds, especially those who are not well-served by traditional colleges. Because of our university's drive to provide alternative and affordable higher education, we've been able to help thousands of people upskill and advance in the workforce. This mission at WGU Indiana is further reinforced by being named a Top Military Friendly ® school.
What's interesting is that most data will show our veterans and active duty military service members are not underrepresented in higher education. According to recent data, 75% of student veterans were enrolled as full-time students. However, veterans and active duty military service members are often best served by non-traditional education models, for reasons such as:
Student veterans are less likely than non-veteran students to invest time outside of the classroom on responsibilities such as parenting, work or other factors.
They report difficulty transitioning from military style learning to a university learning environment. 
Because of deployments, some veterans experience loss of scholarships, academic credits and more. 
Due to relocations during service, many find it challenging to establish residency or maintain schooling.
For the 12th consecutive year, Western Governors University, including WGU Indiana, is the recipient of the 2022-23 Military Friendly® School designation for its effective online programs. The prestigious list assesses an institution's ability to meet thresholds for Student Retention, Graduation, Job Placement, Loan Repayment, Persistence (Degree Advancement or Transfer) and Loan Default rates for all students and, specifically, for student veterans. It sets the standard for higher education institutions to provide the best opportunities for members of the military and their spouses.

At WGU Indiana, our commitment to being a military friendly school goes far beyond this designation. The online university also demonstrates its support for Indiana's military families by offering a number of scholarship opportunities unique to this student group, such as the Gold Star Family Scholarship, valued at up to $10,000. This scholarship was launched earlier this year to honor fallen service members by helping their surviving spouse and/or children pay for school. 

In addition, our Military Strategic Partnership Managers develop and build relationships with military-affiliated organizations and partners, active duty military, spouses, dependents and veterans to support workforce development through continuing education at WGU Indiana.

Competency-based, affordable, portable and relevant to today's workforce, the online university offers active-duty military personnel, their spouses and children, and veterans the opportunity to further their careers with higher education in a way that fits their unique and often unpredictable circumstances. 

For more information about WGU Indiana's student veteran programs, visit www.wgu.edu/military.