By way of North Carolina, Jacob Brown has called Indiana home for the past 18 years. In 2016, he chose to take a leap of faith and head back to school to help build up his skills and become a leader within his company. Jacob started his career in a client-facing role and has since been able to move up the ranks to become the Vice President and Director of Small Business Administration Operations at 5/3 Bank.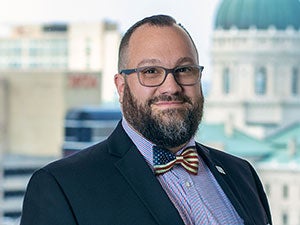 This was made possible thanks to earning his Master's in Management and Leadership Degree from WGU Indiana. His new credential has not only helped Jacob accelerate his career, it also gave him the skills to help others within his company work more efficiently together, especially in the face of the COVID-19 pandemic. 
Most recently, Jacob received WGU's Distinguished Alumni Award. This honor recognizes alumni whose work or volunteer efforts go above and beyond what is expected of them at work, and who have made a positive impact in their community or career field. Learn more below about Jacob's story and how WGU Indiana's flexible learning model helped him reach his goals:
How has your life experience shaped your career ambitions?
At a high level, I come from a military family, so I have always looked for opportunities to work somewhere that values servant leadership. My father always had volunteer roles or 2nd jobs growing up that were focused on giving back outside of his military service.
Describe your role as VP/Director, SBA Operations at Fifth Third Bank?
Today, I lead all non-sales functions of Small Business Administration (SBA) lending nationally. My team is made up of four key functions and teams that support those efforts. 
Eligibility, which evaluates and analyzes a proposed loan to ensure compliance with SBA Standard Operating Procedure. 

Credit, which is responsible for analyzing the financial viability of a business or proposed business to be successful and the ultimate ongoing periodic review of the performance of that lending relationship until maturity of the loan. 
Middle Office, which is responsible for the due diligence of a loan file required to close or renew the transaction from a legal perspective. 
Finally, servicing, which is all of the required work to maintain that relationship until loan maturity, this includes the training and compliance requirements for all of the SBA lending program and team members, and reporting requirements to the federal government. 
My core team is made up of roughly 45 people including people leaders and individual contributors across 10 states. I also lead the team that supports much of the Paycheck Protection Program (PPP) for the bank, and this team is roughly 26 across a total of 13 states.

How did WGU Indiana prepare you for this position?
My graduate degree provided relevant learning in all areas of leading a business. Each of my teams work closely with one another as well as multiple teams in other areas. My degree helped me build bridges among my teams and the others they support and work with on a daily basis to be more efficient and effective.
What life lessons have you learned throughout the pandemic that you currently or plan to apply to your career?
Grace and agility. When the pandemic began I was an individual contributor in a customer facing sales role advising business clients. Now, I lead non-customer facing operations functions and teams. These are polar opposites. Many of us shifted from working in offices to permanent remote work. We created entire programs from scratch and then learned how to do the work during one of the most challenging times in modern history. Grace and agility enabled that success.
What did it mean to you to be a recipient of the Distinguished Alumni Award?
To be selected out of all the awesome folks from WGU Indiana graduates is one of the highest honors in my life. Very humbling.
Anything else you'd like to share with fellow WGU Indiana students, alumni or prospective students?
In the middle of my degree journey, my family went through some devastating medical issues. It was back to back over a period of a year. Without my mentor, Amy Mullins, and the flexibility of the WGU model, I would have given up. My advice to any current students would be: you made a great decision, don't give up and keep pushing. For prospective students, take the leap, invest in yourself, you can do it and it is worth it!