In February 2013, at an event at the Kauffman Foundation, former Missouri Governor Jay Nixon and Western Governors University President Emeritus Bob Mendenhall announced the creation of the state affiliate WGU Missouri.

At the time, there were 455 Missourians attending WGU. In addition, 293 Missourians had earned a degree from WGU since it began in 1997. Five years later, a lot has changed.

Enrollment in WGU Missouri has grown from 987 students to over 2,700.

The total number of Missourians who have earned a WGU degree has increased from 293 to 1,911.

The fourth annual commencement ceremony in June 2017 for WGU Missouri celebrated 512 graduates.

The average time to earn a bachelor's degree for that graduating group was 2 years and 2 months.

The number of Missourians working for WGU increased from 15 employees to 136.

The number of companies partnering to offer their Missouri employees a discount on WGU tuition has grown to 119.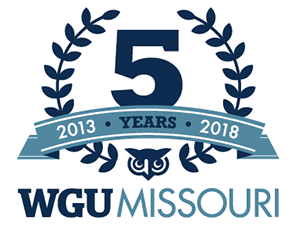 WGU Missouri is earning respect. The number of Missourians capitalizing on our model—the most efficient, most affordable option for busy adults to earn a degree—is having an economic impact in our state. More importantly, the WGU Missouri opportunity is making a difference for families.
Take Lindsey McHenry, a mother, and clinical educator at Mercy Hospital. Lindsey, who already had a bachelor's of science in nursing wanted to continue her education, but her schedule was already jammed packed. Once she learned about WGU Missouri's online, competency-based model, she knew she could fit a Master of Science in Nursing degree into her busy life. Lindsey used her previous experience and skills to complete her Nursing degree in a single term. "The online setting at WGU Missouri allowed me to manage my personal and professional life very well. I was able to work on assignments on my own time, to allow a good work and home life balance while juggling school," says Lindsey.

WGU Missouri's competency-based education model allows students to work at their own pace. Current Master of Science in Management and Leadership student, Ben Vickers, has found that the competency based model is a great fit for his learning style. "I love the competency model. It allows me to truly work at my own pace and has a better work/life/school balance. If you need a break, you can take one. If you want to move faster, you can. I can apply immediately the information I learn in this program, and can take the knowledge that I already have and progress the program at a faster pace. If you are an independent learner, you don't have to rely on others or instructors, but if you do need the help, it's there for you. The support I've had from start to finish has been unmatched. The onboarding staff, the mentors; they have all been amazing. You can tell they focus on and understand adults with families and careers, and that makes a dramatic difference in the way you are treated," says Ben.

By finishing faster, WGU Missouri students not only pay less but also can begin earning more sooner. Matt West, who is currently pursuing a bachelor's degree in marketing management at WGU Missouri was interested in going back to school to complete his degree, but didn't want to add to his student loan debt. "WGU Missouri makes it affordable and flexible for me. I was initially scheduled to graduate in 2 ½ years, and I'm now on track to graduate in two years. I'm able to shave 6 months off my degree, saving time and money," says Matt.

As WGU Missouri begins its fifth year, we can celebrate the great accomplishments of our students, alumni, and faculty and start to set more goals for the future. In honor of these milestones and to further advance our mission of providing Missourians with access to high-quality, affordable education, we are proud to announce the WGU Missouri 5th Anniversary Celebration Scholarship. These scholarships, worth up to $5,000 each, are open to new students who want to pursue undergraduate or graduate degrees.

Our dream for Missouri is stronger families, stronger communities, and a stronger state. We are encouraged by the progress that we have made and look forward to continued success over the next 5 years.