Lana Borden, RN, BSN, CIPH, CPH, knew early on that she wanted a career helping others.
"I was always interested in jobs that focus on people, so healthcare seemed the right fit for me," she said "I looked into the medical field, but realized I was more interested in the health of the whole person rather than diagnosis and treatment of disease or injury. So I chose nursing because it means caring for the physical, emotional, spiritual and psychological needs of a person to promote health and preserve life. It's an honor to be a part of someone's life in this way."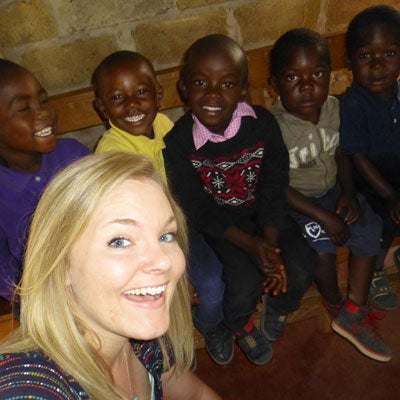 What Lana didn't know at the time is that she would eventually teach nursing in a developing country. Lana has traveled internationally on medical mission trips to Zambia, El Salvador, and Guatemala over the past 10 years with church groups and medical teams. When she saw the lack of health education and practices in low-resource countries, she wanted to help.
"Over these last 10 years of traveling and working, I've seen how powerful education can be," she said.  "I believe nurses have a responsibility to the next generation to help teach and train those who will come behind us, so that our skills and experiences don't end when we retire. This is true anywhere in the world. But I've seen first-hand the desperate need for more nurses and nurse educators in third-world settings like Zambia."
Knowing she would need to earn her master's degree in nursing in order to teach nursing, Lana's co-worker, who had completed her MSN through WGU Missouri, encouraged her to enroll in the program.
"I started at WGU Missouri in 2015 and was very surprised by the affordability and how well it fit into my two-job schedule," Lana said. "The knowledge I've gained so far in the program has been wonderful, and I believe this is the next step in my career goal of working as a nursing professor." 
Lana is on track to earn her MSN in the fall and plans to move to Zambia in January 2017 where she has accepted a professorship to fulfill her dream of positively impacting others' health and life.
If Lana ever wonders about her decision to leave her life here behind and move across the world, she thinks of her favorite memory from her travels. It began in July of 2012, when she was completing a clinical rotation at the Mushili Clinic in Luanshya, Zambia, to earn a certification in international public health (CIPH). While there she taught a short hand washing in-service to the clinic's medical staff. She used craft paint and unit cubes to make a quick sign illustrating the spread of pathogens on hands, reinforcing the importance of hand washing. Afterward the clinic's lab technician, Elijah Pule, asked if he could keep the sign. 
Three years later Lana returned to Zambia and visited the clinic to meet old friends. Pule was there and eagerly brought her to the lab to show her his work space. There on the wall next to his chair was the handwritten sign from three years ago, faded and worn-looking. He cheerfully explained that he looks at it every day, remembering their time together three years before, and he makes sure to wash his hands and equipment. 
"I thought of the countless patients he has cared for over the last three years and tears came to my eyes," she said. "I realized then the great power in educating community healthcare workers. So in those moments when I wonder if I should be moving forward with a nursing education job in Africa, or when the comforts of home seem especially appealing, I look at this picture and I wonder who might be the next Elijah Pule I can encourage and invest in."