Meet Lindsay McHenry, a mother, Clinical Educator at Mercy Hospital, and WGU Missouri Alumni. As a Clinical Educator, Lindsay assumes responsibility for all activities related to assessment, coordination, planning, implementation, and evaluation of educational programs to patient care staff on a Medical-Telemetry Unit. She also assists with professional development of all staff on her unit through knowledge of evidenced-based nursing practice. Lindsay was able to complete the Master of Science in Nursing program at WGU Missouri in just 6 months!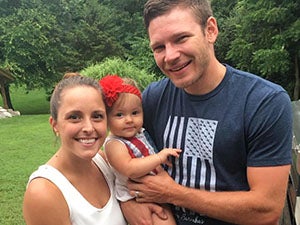 Being the first in her family to complete their Bachelor's degree was a wonderful achievement for Lindsay, but she knew that earning her master's degree would allow for an even more secure future for her growing family. Lindsay also felt it was important to set an example for her children by showing them that they can overcome the odds just like she did.
Managing her personal and professional life while earning a degree was not an easy task. Lindsay said that "the online setting at WGU Missouri allowed me to manage my personal and professional life very well. I was able to work on assignments on my own time, to allow a good work and home life balance while juggling school." Lindsay believes that one of the most unique aspects of WGU Missouri is that everyone wants you to succeed. "Every counselor, student mentor, course mentor, and other students that I talked to truly wanted me to succeed and graduate on time or early. The program was full of support and guidance, which I attribute to my early graduation and success." Lindsay had never experienced learning through the competency based online format, and she absolutely loved it! The format helped her succeed by allowing her to work on her own time and in her own way. Being very independent with her learning gave her a great sense of accomplishment upon successful completion of each course.
Completing her MSN degree through WGU Missouri has, and will have a great impact on her life. Lindsay says that, "completing my degree has given my family hope for a secure future. It will allow me to have more options for doing the things I love away from home, educating nursing personnel. It has broadened my knowledge and allowed me to enhance quality of care in the facility that I work in." Lindsay feels that WGU Missouri has prepared her for her current position by expanding her knowledge and increasing her ability to research evidenced-based practices and apply the findings to real-life.
When asked what she would tell someone who is considering earning a degree from WGU Missouri, Lindsay said, "I would tell them to jump on it and do it! I was nervous before I started because my daughter was 3 months old, and I was just returning to working a full-time job. WGU Missouri worked with me to make sure that I progressed on time, and encouraged me in times of doubt. Everyone at WGU Missouri supported me and assisted in my success. WGU Missouri is very flexible and permits a good home, school, and work life balance."