When Lori Danella walked across the stage at WGU's commencement in Orlando last month to accept her Master of Science in Management and Leadership degree, she was fulfilling a goal she set many years ago – to honor the memory of her youngest son.
In 2007, when Lori's son was attending school in Orlando, he was involved in an accident and suffered a severe brain injury that prevented him from moving or communicating. He battled for three years before passing away in 2010 from complications from pneumonia and sepsis.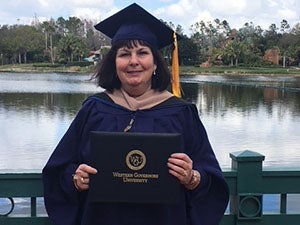 "Seeing his young life cut so short, I vowed that I would find a way to do something for myself to honor his life," she said. "I decided last year I was ready. Completing my master's degree was for him."
Lori set out to pursue her degree from WGU Missouri knowing that it would help her advance to higher positions in her profession. As the Assistant Director of Nutrition for the Lee's Summit R7 Public Schools, she oversees 10 schools, working with nurses and parents of children who have special diets, allergies and medical conditions. She is responsible for menu planning, nutrient analysis and ensuring the schools follow federal, state, and local regulations for the USDA and Health Departments. A certified School Nutrition Specialist, Lori also teaches classes for the School Nutrition Association (SNA) and serves on the National Board of the SNA.
At the time that Lori was earning her degree, she had to balance a busy schedule. "I'm 53, a grandmother, was working full time and active on the National Board of the School Nutrition Association, all while I was attending WGU," she said. "I was also serving as the Midwest Regional Representative for the SNA, so I was traveling to eight Midwestern States."
Lori loved that WGU Missouri let her work at her own pace and provided all the tools she needed to be successful. She found that talking to her student mentor each week helped to motivate her and kept her accountable from week to week. "Obtaining my degree was high on my priority list, so I dedicated as much time as I could to my studies and challenged myself to complete my master's degree in less than a year," she said. The more Lori got into the classes, the more she wanted to learn to help her develop into a stronger leader.
Lori completed her degree in less than a year and wasn't sure at first if she would attend commencement. The more she thought about all her hard work and how she reached her goal, she felt she deserved it. "I am so glad I did," she said. "Meeting fellow students and some of the staff from WGU was a once-in-a-lifetime experience."
Lori chose to attend commencement in Orlando because that is where her son had his accident. "I had not been back to Orlando since December 2007 when we brought him home to Missouri on a Med Vac plane," she said. "My heart ached, but it was bittersweet, because he was one of the biggest reasons I set out to get my master's degree. I felt proud when I put on my cap and gown, and when I walked across that stage, I literally felt him hug me."