We know that WGU Nevada is pretty great when looking at online education opportunities, but you want to hear from the students who live and breathe it. Which is why we are so excited to showcase another blog in our In Their Own Words blog series featuring Clark Davis, a current student at WGU Nevada studying for his Business Management degree.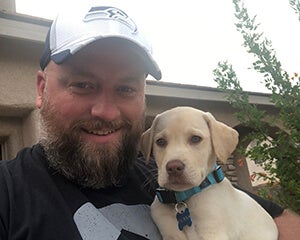 What career are you in now?
Currently, I work in insurance but wanted to look at opportunities to advance in my career. The higher-level positions manage people, which is something I am interested in, but I want to have an educational advantage. The management level I am working toward will allow me to help individual business owners who sell insurance run their business and be better at their jobs.  
What made you choose WGU Nevada as your higher education institution? 
I had a friend recommend WGU Nevada to me. They said WGU Nevada was self-paced and self-study, which I needed since I was already in the field and I wanted to stay in. I needed an education with flexibility, and WGU Nevada provides me that by allowing me to have control over my schedule and build my own organization to help me learn. Sometimes it can be challenging, but there are many resources available to stay on track. Additionally, it is very affordable. 
Have you attended any WGU Nevada events: graduation, luncheons, baseball games, bowling nights?
I have had a group setting and a personal setting with WGU Nevada. I had the opportunity to sit down for lunch with Chancellor Spencer Stewart of WGU Nevada one-on-one. We had a great conversation and I was able to talk about what led me to WGU Nevada and have a meaningful conversation. Secondarily, I am on the email list for WGU Nevada events and I saw a bowling event happening that was open to families. So, I grabbed my family spur of the moment and we were able to partake in the activity. I like that it was family-friendly, as it allowed me to interact with fellow students and educators, while also spending time with my loved ones. 
What advice do you have for an adult thinking about going back to school?
Don't be scared. I thought it would be overwhelming, but there are so many resources available to WGU Nevada students, including pre-assessment exams that allow you to test out of certain topics if you have industry knowledge already, and the education advisor is great. Mine is Kelly and she has helped keep me accountable toward my goals while also offering the enthusiasm I need to keep going. There are some false perceptions about online education, and although it does require you to structure yourself, it isn't difficult. You need to make time for the things that matter, and if education is the thing that matters to you, you need to get out there and make it happen. 
When is your goal to graduate? 
My target is to graduate in 2021.