The healthcare field is fueled by passionate professionals in a variety of sectors and WGU Nevada is dedicated to this important industry. So, we wanted to plan something new and fun to ignite that industry excitement in our high school students within southern Nevada. In collaboration with Las Vegas HEALS, we planned a first-time healthcare field trip that took place on October 14 where local high school students were exposed to a vast array of careers in the healthcare field. During the event, the students had the opportunity to learn about the job outlook and various aspects of the industry. 
We are so happy to have had Las Vegas HEALS on board. Las Vegas HEALS (Health, Education, Advocacy, and Leadership in Southern Nevada) is a nonprofit, membership-based association whose mission is to foster strategic alliances in the healthcare community. We are proud that together we were able to make this field trip possible.

Clark County School District students from Sierra Vista High School who are a part of the Jobs for Nevada's Graduates program joined us for this field trip. Jobs for Nevada's Graduates is a highly effective dropout intervention and work-readiness program. Their trip took them to three different organizations: Southern Hills Hospital, Nathan Adelson Hospice, and Nevada Donor Network.

The half-day tour started at Southern Hills Hospital where the students were able to speak with doctors and other hospital administrators. Southern Hills Hospital, located in Las Vegas, Nevada, provides a variety of important services to the community including behavioral health, emergency care, and family health to name a few. 

Later, the students traveled to Nathan Adelson Hospice, which in 1978, became Southern Nevada's first home care hospice. Then lastly, the tour ended at Nevada Donor Network, the only statewide Organ Procurement Organization dedicated to educating Nevadans on the importance of registering to be a donor hero. 

Local healthcare leaders hoped to expose and encourage future generations to learn about jobs in this career field. As organizations continue to seek quality professionals, educating local students is key to piquing interest in future job choices and studies. Field trips like this one are pivotal to stoking the interest in healthcare, which will not only provide a valuable career path for our youth but will, in turn, support our community by offering important healthcare to our citizens. Thank you to all the organizations that participated and made our first field trip possible. Now, to think of our next field trip!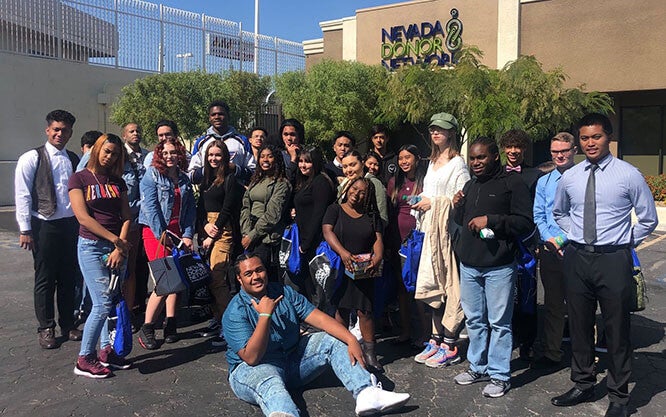 Sierra Vista High School students at the Nevada Donor Network offices.