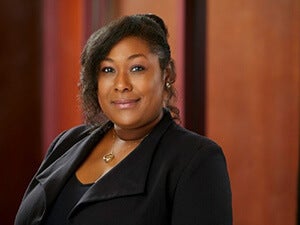 If there's one thing WGU students excel at, it's setting and achieving goals. That's exactly what Jessica Etienne, a WGU Nevada student and revenue analyst for United Way of Southern Nevada (UWSN), has been accomplishing recently. One of Etienne's many responsibilities as a revenue analyst is to apply for grants on behalf of UWSN, which in turn provides funds for the community.
"Without the funds, we can't help anyone," she said.
Recently, UWSN announced the first round of funding to 13 nonprofits in Southern Nevada that will provide food, housing, and utility assistance to families and individuals affected by the COVID-19 pandemic. As someone who has worked at UWSN for more than four years, Etienne knows just how impactful actions like this can be to those who need help.
"I walked in and said this is where I need to be," she said. "No one else does what we do."

Transitioning out of her previous line of work as an executive assistant, Etienne knew above all else she wanted to make an impact by working for a nonprofit. She began at UWSN in an administrative position, and within a year was promoted to administrative manager, and subsequently to director of operations. As most of her work was centered around the finance department, she eventually made the switch to her current role as revenue analyst.

"It always clicked, it just worked for me," said Etienne.

Although she knows how crucial it is to help others during the pandemic, Etienne also believes it's important to give back during times that aren't as uncertain. One lesson she was taught by her father was to always look around while driving. By seeing people who may be less fortunate simply trying to make ends meet, it emphasizes how blessed you are.

"It's truly important to give back to nonprofits and find a cause because you actually change someone's life," she said. "People don't realize that your $5 helps someone pay their rent. You never know, you could be helping your neighbor."

Etienne, who is currently studying accounting at WGU, noted that taking courses through WGU taught her a lot about herself. She also appreciates her weekly check-ins with her WGU mentor.

Regarding the future, Etienne wants to continue on her path of helping others while working towards achieving her degree. She is appreciative and proud to be a WGU student for many reasons. 
"I feel that my mentor and the course instructors genuinely care about me and are invested in my progress. It is an amazing feeling to know they are in my corner," she said. "As a mom, I'm just trying to be a great example for my daughter. To be in numbers and data, even trying to get a degree is beyond me at times. I'm learning more and more about myself every day."