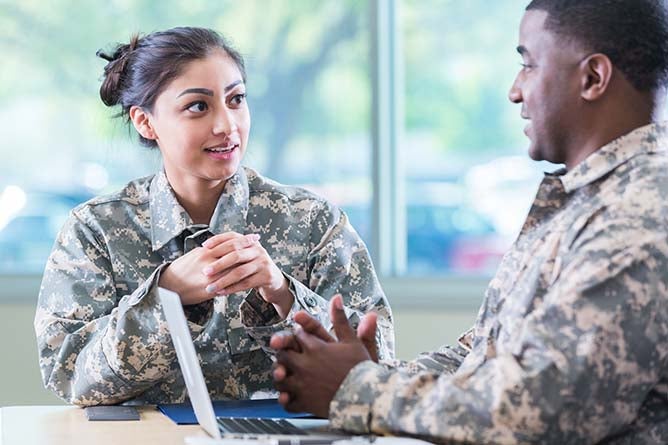 By Lynne Barbour, Regional Manager, Strategic Partnerships
North Carolina is often praised as a top destination for business, entrepreneurs, academics, and technology. WalletHub recently released a report on the Best & Worst Places for Veterans to Live, and North Carolina had a strong showing with Raleigh ranking #4 on the list of Best Cities. Other North Carolina cities on the list include Durham (#24), Charlotte (#27), Greensboro (#48), and Winston-Salem (#69).
According to the Department of Veterans Affairs, there are more than 18.5 million veterans currently living in the United States. More than 200,000 servicemen and women separate from active duty annually.
I work with passionate veterans and specialists who share one mission – to promote North Carolina as a top destination for those re-entering civilian life. As military advocates, we see resources and opportunities available to veterans across the state. However, methodology can't tell a story like a veteran can, so I took this opportunity to reach out to a few North Carolina-based veterans I work with to find out why they decided to call North Carolina home.
Marilyn Terrill, Dean of Veterans Programs and Innovation at Wake Technical Community College, is a retired U.S. Army veteran who has lived in the D.C. area, New Mexico, Alabama, South Korea, and Germany, to name a few. Terrill states, "When I was assigned to Raleigh, we loved the family-friendly community as well as the safe environment. Some great reasons why a veteran and their family will appreciate living in North Carolina are the friendly people, warm veteran-friendly businesses, and great job opportunities."
Paul Berry, NCServes Network Director/Programs Manager, joined the Marine Corps in 1986 and first came to North Carolina in 1987. Berry says, "Over the course of the next 30 years, I did a total of 11 overseas deployments, but Eastern North Carolina was home for my family. From 2008 to 2011, I served at the Marine Corps Recruiting Station in Raleigh as Sergeant Major. It was during this period that I traveled most of the state. As I was nearing the end of my career in 2016, we decided to move back to Raleigh from the Coast because both of our children were living and going to college in the Triangle. Another reason we moved back to Raleigh was we had very good access to employment opportunities. Knowing that the Raleigh area was growing so fast was a big draw for us." 
Chad Johnson, Co-Founder of Triangle Veteran Network and a professional cybersecurity consultant, says that "opportunity" was the main reason he decided to live in North Carolina. Johnson says, "When I was getting out of the military, I looked at my hometown area and there were nowhere near the industries represented as there were here in N.C., and the job market was not as robust. When I looked at some of the best places to live on the East Coast, North Carolina, and more specifically Raleigh, came up in many of the searches."
He continues, "Through the connections I've made here, I've been able to make North Carolina my permanent home, and have had some awesome opportunities to participate in veteran-centric initiatives that improve the lives and the communities of those who live in North Carolina."
Diana Graham, Army combat veteran and Owner & CEO of Crowned for Success Global Consulting, says, "North Carolina is my home state, a place where I will always return to time and time again. Relationships matter, and support for the military community is strongly felt here. Veterans are not foreign in the state of North Carolina; therefore, acknowledgement paves the way for communication, leading to groups that provide ongoing support from government, nonprofit, corporate, academia, and entrepreneurial arenas." 
So, WalletHub's methodology had it right. North Carolina is indeed one of the best places for veterans to live, and in my opinion, the people in our state who support the military community make it the best place to live.