Last November, we published a blog article with students' responses to the question "How has WGU changed your life?" We were overwhelmed with so many inspiring comments that we couldn't possibly fit them all into one article. Following are more responses we received:
WGU made it possible for me to pursue my dream of becoming a teacher while also taking care of a household and working full-time. Without WGU, I don't think I would have been able to accomplish my goal. 
— Crystal B.
Deciding to attend WGU was one of the best decisions I've ever made. The flexibility, as well as affordability, allow me to obtain a college degree from anywhere I am and on my own time. This is extremely important to me because I'm a military spouse that's had to move across the country while still being a college student! 
— Britney S.
In 2013, I lost my job and ended a 10-plus-year employment. I went back to school and got my associate degree in I.T. at a local community college. After talking to a WGU admissions counselor, I learned that over 65% of my bachelor's degree was already done and that I could finish my four-year degree program in less than two years. I am the first college graduate from our low-income family. The low cost, online, competency-based model at WGU has helped my dream of being a college graduate come true! I tell everyone I know that is even thinking of taking college classes about WGU.
— Jeff C.
In the beginning, I was worried about a completely new experience, but I knew that I didn't want to continue education in a standard campus environment. Passing classes at my own pace is a tremendous thing that I couldn't have dreamt about. It is real! When I went to college, I felt like I was wasting my time for five months trying to pass 4-5 classes. WGU gives me life balance and the ability to prioritize my day. WGU changed my perspective on education.
— Polina M.
WGU has been amazing, they have always offered such support. My mentor is more like a friend than some "superior leader." She has been through a lot with me personally, and every week we talk about school and keep in touch. She offers such great support for my schoolwork and keeping me motivated. WGU's terms are manageable and allow for more courses added to save money. And, dude!!! I love money!
— John A.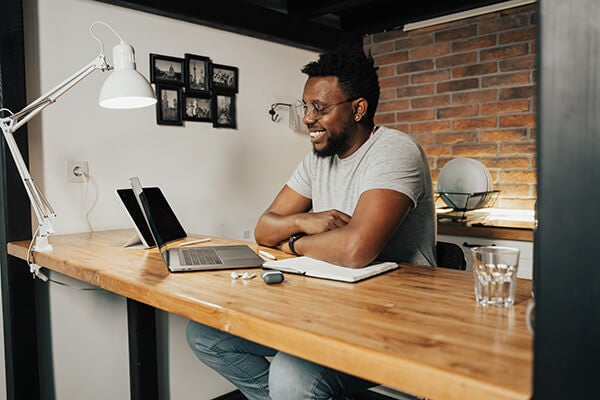 I work full-time and have a six-year-old daughter, so with my already busy life, I struggled with everything that comes along with a traditional university. When I first discovered WGU, I honestly thought it was too good to be true. I couldn't believe I wouldn't have to participate in discussion boards that didn't teach me anything, or that I would be able to go through a majority of a course on my cell phone, but it was true. Everything about WGU thus far has been far better than I could have imagined, and it has changed my life by providing me the motivation, determination, and overall ability to be able to handle life while simultaneously obtaining my bachelor's degree.
— Taylor H.
After accepting an adjunct teaching position at the local community college, I got bit by the teaching bug and decided to look into obtaining my master's degree in nursing education. The flexibility of the WGU program has allowed me to continue to work full-time without feeling like I am "spreading myself too thin." Having a mentor who has graduated with the same degree I am pursuing is very reassuring, and their guidance, support, and encouragement is invaluable. I keep a postcard my mentor sent me stating "Keep going, you've got this" by my computer, and that is my motto and motivation. 
— Madeline F.
WGU's flexible self-paced-course format and program mentor support has made it possible for me to finally realize my dream and goal of earning a degree. If I had to choose one word to describe how WGU has changed my life it would be CONFIDENCE. I am confident I can earn my degree now, which makes me feel more confident about myself and about the example I am setting for my children.
— Mary N.
Having worked as an IT professional for 17 years, not having a degree has certainly held me back from receiving jobs and promotions. Having a full life, a family of six, and a career—I felt there was no room in my life to commit to 2-3 years to complete my degree. On a whim during the "no commute" work-from-home phase in 2020, I made the decision to go to WGU ... a decision I will not regret! WGU's cybersecurity program has been very practical to me; almost immediately after learning something at WGU, I'm able to use it in my day job.
— Jeffrey H.
WGU gave me hope and a purpose. I was unsure what direction I wanted to take my nursing career. I enrolled in WGU's MSN-Leadership and Management program in March 2020. I have never been connected with so many independent, motivated people in my life. WGU showed me the real meaning of independence and allowed me to take my career to the next level.
— Reaonna C.
I am an MBA Healthcare Management major. When the pandemic struck, literally overnight my life changed. I am a college instructor, so we were forced to work from home and develop new ways to engage our students. With WGU, I was not pushed for deadlines and due dates, etc. WGU has worked with me and has been so encouraging to keep me moving forward.
— Carla J.
WGU has changed my life, as it is a steppingstone that I am completing to one day work for the Department of Education. Having worked in a school with 95% of students coming from a low socioeconomic status, with lack of parental support, and children taking care of younger children, there was nothing in a curriculum or teacher training to tell you how to deal with it. I am learning and understanding the importance of cognitive development and the factors that impact how we develop as people; this in turn will help me look at curriculum design and curriculum plans from a different lens to make the access and presentation of curriculum equitable. Thank you for all the positive change in my life because of this program, and all the change it will bring once I finish. 
— Megan H.
I currently work at an afterschool program with veteran teachers. Before enrolling in WGU, I did not have the confidence needed to be a teacher. I have just completed the Foundations of Education course. This has been life-changing. These foundations and the mind-blowing support from WGU have given me the confidence that continuing my education with WGU was the right decision. 
— Shelia S.
As a professional with a 12-year career in aviation, I simply did not have the time to go to a traditional four-year school. When wanting to better myself and take the challenge of a promotion, the lack of a degree would always count against me. I thought there would be no hope and that my career would halt at this point. Shortly thereafter, a colleague recommended WGU, so I looked into it. Fast forward a couple of semesters, and I am 54% into the business degree program. My wife and I (it is a whole family effort!) are considering continuing our education after the bachelor's degree onto an MBA and MSOL. I take pride in being a WGU student and hope to be able to change someone's life by referring them to this school that has filled me with goals, ambition, and hope. 
— Samuel H.
I have been a nurse for 35 years. Enrolling in the MSN program at WGU has allowed me to organize and view three decades of nursing in a new framework of learning. I am gaining skills required for today's nurse in this technology-driven healthcare environment. Being a student at WGU is changing my life by changing the way I understand the world and myself. I am excited every day to be learning new things and growing both personally and professionally.
— Kathy A.
I am a 52-year-old lady returning to school after many years of waiting to do so. It was never my intention to wait so long but I am the mother of a disabled son and unfortunately suffered a divorce about 12 years ago. School seemed like a far-off if not impossible dream for me. I have completed my BSN this past June and am ecstatic over this achievement in my life! It is my goal now to finish my MSN in 2021. I know there are many men and women out there that have anxieties/fears and financial concerns over returning to school due to adapting to online education and other challenge. I hope that WGU can use my testimony and others like me to express the overwhelming success and confidence we have in the processes of the university. It works!
— Angela M.
If you or someone you know is considering applying to WGU, consider these testimonials from individuals who took a chance on an accredited nonprofit university that is truly changing their lives. Ambition never rests!