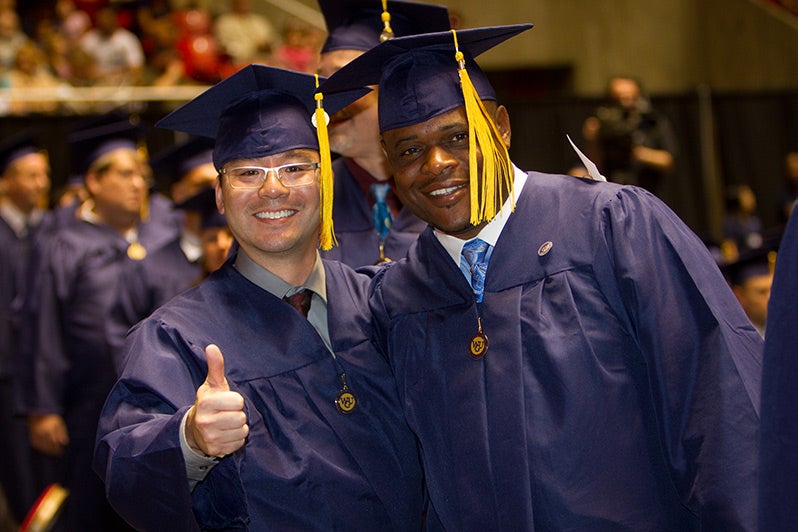 WGU North Carolina celebrated its third anniversary in October. We are extremely proud of the positive impact we've had in the state in terms of postsecondary education and workforce development. In our last blog post, we highlighted some statistics about our growth and student population. 
As a student-centric university, we are keenly aware that behind every statistic is an individual with a unique story to tell. We recently asked WGU students in North Carolina, "How has WGU changed your life?" Some of their affirming and powerful responses are below.
WGU has changed my life by giving me the ability to be an army wife and a stay-at-home mom while finishing my degree. Being a military family, it's challenging to finish school in person when we are constantly moving, or my husband is away for months at a time and I need to be home with our child. WGU has given me the ability to still chase my dreams while supporting my husband's.
– Jorie M.
WGU has changed my life in allowing me to accomplish a dream I've had since I was a little girl of becoming a teacher. For the last 10 years of my life, I have been in and out of universities to try and achieve my goals of finishing my degree to become a teacher, but I have never felt like I had a school to represent and feel a part of. Being a wife and a mother of three children, it's hard to find time in a day to get schoolwork done, but WGU did that for me, and therefore changed my life. I have only one more term to go and I am done! That is until I get registered for my master's program!
– Anastasia W.
WGU has made it possible for me to finally finish pursuing my dreams after I thought it would never happen once the responsibilities of becoming a family man took over my life. I feel more confident and optimistic about the future, not just for myself but also for my family, and I genuinely look forward to the prospects of the years to come. Committing to WGU was one of the best decisions that I've made in recent years.
– "AJ" M. 

WGU gave me a belief that after 31 years of a previous unrelated career in biomedical research and animal medicine, that it was possible to get a degree in accounting in my late 40s. In a world that won't support you unless you are buying something, to have the human connection, the support and demonstrations of what I call "professional caring" is why my life has been changed by WGU. I can't always count on friends and family to support me in my goals, but consistently I know I will be supported and encouraged to continue on until the end with those I work with through WGU.
– Shuree M. 
My whole life I've wanted to be a teacher. However, riddled with health problems, college was incredibly challenging. After switching my major to another helping profession, I was afforded the option to utilize WGU as the alternative pathway to teaching that I needed to do the one thing I've always dreamed of doing: making a difference.
– Ericka C. 

I didn't think it was possible for me to be a single mom, work full time and attend school. Before starting with WGU, it seemed too much at the time. I was proven wrong. WGU allows me to work at my own pace and has given me the push I needed to pursue my dreams. My mentor is amazing! She is my coach, cheerleader and my friend. The course instructors are helpful and knowledgeable. They reach out with information and resources that have helped me succeed. Attending WGU has given me confidence and has turned my "impossible" dreams turn into "possible" dreams.
– Heatherlyn F.
I work at a university, and the skills I've gained at WGU has helped enable my institution to safely conduct in-person classes during the COVID pandemic. Thanks to WGU, I was able to quickly write complicated, custom reports that helped allow socially distanced classroom assignments. There's no way I could've done this without WGU. Go Night Owls!
– Jason O. 

How has WGU changed my life? 2020 is year 18 of being out of school. Finishing my BSN was always a goal, but life, children and work got in the way. With all the craziness that 2020 has brought, I decided that if my boys were going to do school online, I would too! Best decision! They see me working right alongside them. They encourage me and I encourage them! Proud to belong to WGU! Proud to be a student again!
– Michelle H. 

I started my life over at 50 and moved to N.C. where I became a teacher's assistant in 2015. Many coworkers told me I should become a teacher, but I didn't have the means or time to go back to college. Last year a coworker referred me to WGU, and after researching the online programs, I realized this was my future. Between the reasonable costs and the flexibility of the hours, I was able to enroll in the program for special education and will soon have my bachelor's degree and be able to start teaching. I am so grateful to WGU for making my dream a reality.
– Diane C. 

WGU has changed my life by allowing me to complete my degree anywhere. Before COVID, I used to travel a lot and was able to do my work and study anywhere, even at the airport before flying. Now, considering the state of the world that we live in, it has allowed me to continue to work from home while taking care of my mother and finish my degree. I am very thankful that I enrolled in WGU because it has allowed me the flexibility to learn no matter where I am, and that is very important to me.
– Andrew B. 

WGU has been the biggest blessing to me. As a mom of four, it has made the impossible possible. I have gotten more done in my first year with WGU than I was ever able to accomplish over five years of attending local community colleges. I love that it is so straightforward, no hoops to jump through! I am confident I will finally make my dream of earning a bachelor's degree come true. Thank you, WGU!
– Dani Y. 

As a former bedside registered nurse, I was aspiring to be more and do more for my community. WGU has provided me with this opportunity through the Master of Business Administration (MBA) degree program. While enrolled, I have been working as an administrative assistant. After I complete my degree in November 2020, I will be accepting employment opportunities with a Fortune 500 company. Thank you to those at WGU who make educational and professional growth goals a reality!
– Christina M. 

WGU's current ad campaign says "Ambition Never Rests," and these individuals certainly embody that motto. Thank you to all our students for choosing WGU.