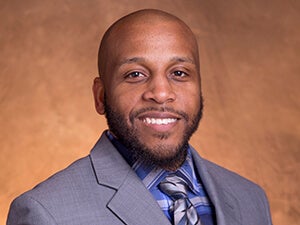 By Dr. Jason J. Caldwell, Community College Strategic Partnerships Manager 
Going to a car dealership can be a taxing experience for many. Not because the car-buying experience isn't enjoyable and exciting; it can be, especially if you're purchasing the car of your dreams. The taxing part can come when you attempt to trade in your older model. The question that always leads the conversation with the salesperson is, "How much are you going to give me for my trade-in?" 
The thought of purchasing something you believed had value, then were told later the value had depreciated and you can't get back what you put into it, is stunning if not heartbreaking. The concept of depreciation occurs in various forms, but none so apparent as the value of transferring credits or a degree to another institution. 
What do you do when you enroll in a program of study with the intent of graduating, with the option to transfer to complete another degree, only to be told that of the 50, 60 or 70 credits you completed, only 20 would be articulated and transferred to your next program of study? 
This is the reality for a lot of students who seek to transfer from one institution to another, particularly those transferring from a community college to a four-year institution. Similar to the experience of trading in a car, students seeking to transfer should ask the same leading question when dealing with the registrar's office or their enrollment counselor: "How many of my credits are going to transfer?" They should do this before making a final decision about enrolling and committing themselves financially to an institution. 
Let's look at this from a purely cost-analysis basis. For an in-state student attending a community college in North Carolina, the average tuition and fees is approximately $3,911 per year. With the average associate's degree program requiring around 66 credit hours to complete (which equates to roughly 2-2.5 years to graduate), a student attending a community college in North Carolina can expect to pay around $7,822 for their degree (just tuition and fees). 
One would think there is value not only in how much was spent on tuition and fees, but also in the number of credits he or she has to transfer from an associate's degree program to a bachelor's degree program. The reality for a lot of students is that when transferring, the number of credits doesn't always follow them to their next program. According to a study done by the Government Accountability Office, the average transfer student lost around 43% of their credits, which is equivalent to almost two semesters' worth of classes. That's a lot of time and money! 
So now the question becomes, who creates transfer pathways that provide maximum value for students seeking to complete their bachelor's degree? The answer is simple: Western Governors University. WGU is a competency-based institution of higher learning, and handles transfer credits differently than most other colleges and universities. WGU believes that a student gains the foundations of competency in general education and some core courses in a major through their academic experiences and prior learning. It's WGU's belief that a student who successfully completes an associate-level degree has demonstrated the perseverance required to continue on into one of WGU's more than 50-plus baccalaureate degree programs.
WGU recognizes the need for improved opportunities for students, and seeks to actively partner with community colleges across the state to expand access by developing transfer pathways that maximize the return for a student's transfer credits. WGU's tuition is also substantially less than that of most four-year institutions. 
Let's be honest. The national student-debt crisis is rising. Forbes reported the amount of student debt nationally is around $1.5 trillion, with the average debt per students graduating in 2017 at around $29,000. 
In North Carolina the average in-state cost for tuition and fees for a four-year degree at a UNC public university is around $26,000, compared $7,000 to attend a North Carolina community college for two years and $14,000 to attend WGU for two years. That's around $21,000 combined for a student to stack their credentials and obtain their associate's degree from a community college and a bachelor's degree from WGU – about $5,000 cheaper than going to most four-year in-state universities.  
If we as a state and society are going to work together to improve the student-debt crisis while providing improved employability options for residents in order to satisfy increasing workforce demands, we're going to have to continue creating transfer pathways for students that are cost-effective and value-additive. That way, students can get the biggest bang for their buck!