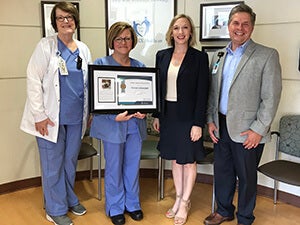 UNC Rex NICU nurse Trisha Grainger (second from left) receives WGU's James Ashe Scholarship.
WGU North Carolina has developed strong partnerships with leading community colleges, businesses and nonprofits, healthcare organizations, IT companies, and education partners throughout the state. This month we would like to highlight our partner UNC REX Healthcare.
Business North Carolina magazine recently ranked UNC REX Healthcare as number one on its list of North Carolina's Best Hospitals. 
Founded in 1894 as Rex Hospital, UNC REX is now part of the private, not-for-profit UNC Health system, which is composed of 11 hospitals and hundreds of clinics from Hendersonville to Jacksonville. With more than 6,400 staff members working across multiple facilities in Apex, Cary, Garner, Holly Springs, Knightdale, Wakefield, and Raleigh, UNC REX Healthcare is one of the largest employers in Wake County. 

According to Julia Aucoin, DNS, NPD-BC, CNE, Director of Education at UNC REX, the organization employs more than 2,000 nurses. Their goal is to have at least 80% of their nurses with baccalaureate degrees, and RNs can work toward their BSN degree within four years of being hired (they are given seven years to complete the degree program). 

UNC REX provides numerous educational support programs for nursing staff, including reimbursement for textbooks and partial tuition, assistance with all clinical experiences (they have an official clinical affiliation with WGU), an intranet site that lists all school options, support in identifying appropriate preceptors, assistance with research projects, scholarship programs, and more. They also provide employees with the flexibility to focus on their schoolwork. 

The COVID-19 pandemic has greatly affected the healthcare profession, and the employees at UNC REX are no exception. "COVID became an additional stressor for some individuals, but we work with them to see that they can be successful," said Aucoin. "For some, their studies actually became a diversion. We had very few people put their education on pause."

WGU's online competency-based model has been a good fit for many UNC REX employees because it allows them to assess their current competencies and build new ones. The bachelor's and master's nursing degree programs at WGU are accredited by the Commission on Collegiate Nursing Education (CCNE). 

WGU North Carolina signed a partnership agreement with UNC REX in December 2018 that allows employees to apply for $2,500 scholarships offered through the WGU Healthcare Partners Fund. Additionally, employees receive a waiver code to apply for free, and have access to WGU career services resources. 

Currently, 25 WGU graduates work at UNC REX, and 19 employees are enrolled at WGU.