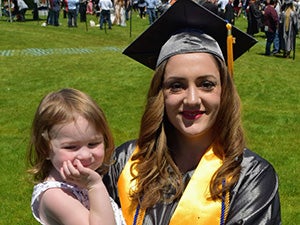 Jeralyn Tiernan and daughter Eisley celebrate at SUNY Ulster's commencement in May 2019.
April is Community College Month, and Western Governors University is proud to have partnerships with individual community colleges and community college systems throughout the country. 
WGU is also proud of its partnership with Phi Theta Kappa (PTK), the premier honor society recognizing the academic achievement of students at colleges granting associate degrees. Phi Theta Kappa is made up of more than 3.5 million members and nearly 1,300 chapters in 11 nations, with approximately 240,000 active members in U.S. colleges. 

Earlier this year, WGU was named to Phi Theta Kappa's 2021 Transfer Honor Roll, which recognizes four-year institutions that have developed transfer pathways that lead to excellence and success among community college transfer students.
"We've hosted online information sessions with Phi Theta Kappa members, and many of them are interested in learning more about WGU, our transfer process, and the scholarships we created specifically for them," said Tenita Philyaw-Rogers, Strategic Partnerships Manager for Community Colleges. 

Phi Theta Kappa Scholarship Winner

WGU College of Health Professions student Jeralyn Tiernan from Kingston, New York, has been a Phi Theta Kappa member since 2017 when she was a student at SUNY Ulster (Also known as Ulster County Community College) in Stone Ridge, New York. "I was surprised how many scholarship opportunities it opened up for me," said Jeralyn about being in the honor society. 
She originally learned about WGU through TV commercials that she thought were very inspiring. While researching online BSN programs, she came across WGU again and was attracted to the school by its competency-based model that awards credit for knowledge based on prior experience, and by its low tuition. It also helped that she earned a $2,500 Phi Theta Kappa Scholarship from WGU, which she says has helped her every semester along with additional financial aid she receives.

In her experience, the transfer process to WGU was very easy. She was pleasantly surprised when the university took some of her prior credits and fit them into the current degree requirements so she would get as many transfer credits as possible. 

She commented that something she really appreciates about WGU, and what sets it apart from other programs, is that it helps you become a better version of yourself. From her very first course, she has learned how to be mindful, how to communicate, and how to reflect inwardly about past difficulties and how she might have handled them better. 

"WGU removes the idea that the degree is just a piece of paper," said Jeralyn. "When you look back at where you started, you know you've changed and grown. That's what that 'piece of paper' should be—proof that you've empowered yourself to be able to empower others as well."

Jeralyn looks forward to earning her BSN degree this summer or fall, which she knows will open many doors professionally for her. As a mother of three working full-time while earning her bachelor's degree, she recognizes that her narrative is far from complete. From being a high school dropout to a Phi Theta Kappa nursing graduate with honors, and soon to be earning her BSN degree and one day perhaps a master's degree, she is a living testament to persistence and hard work, and a great example to her children.

When asked what advice she would give to any community college students exploring transferring to WGU, she said emphatically, "Go for it! The transfer process is easy, you can start any month you choose, and the classes are flexible. You can do this!"

For more information about Phi Theta Kappa, visit ptk.org. To learn more about WGU's Phi Theta Kappa Scholarship, visit www.wgu.edu/financial-aid-tuition/scholarships/partner/phi-theta-kappa.html.