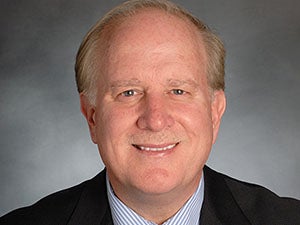 James Gibson, Executive Vice President and COO, Research Triangle Institute
As executive vice president and chief operating officer at Research Triangle Institute (RTI), Jim Gibson is responsible for helping to drive strategy and operational excellence for RTI's domestic and international businesses. Mr. Gibson, who joined RTI in 2000 as chief financial officer, oversees the leadership of RTI's Health Solutions, and Social, Statistical, and Environmental Sciences Groups, as well as Corporate Facilities Strategic Services and RTI's International Regional Offices. 
Mr. Gibson also leads RTI's university collaborations and chairs the University Collaboration Committee, composed of RTI's senior leaders and university representatives on RTI's Board of Governors. 
What attracted you to serve on the WGU North Carolina Board of Advisors?
We have a strong education group here at RTI, and one of its leaders, Angela Quick, knew [WGU Chancellor] Catherine Truitt and recommended I talk with her. Before our meeting, I did some research on WGU and very much liked what I read about the school.
While most of our work at the RTI education group involves large-scale surveys at the federal level, we're currently looking for ways to branch out. For example, RTI works on a number of international education projects with the U.S. Agency for International Development, including workforce development — which is a major focus and benefit of the WGU model. I believe WGU has tremendous upside in the U.S. in terms of innovative education and workforce preparedness, and I would like to see that spread across the globe. 
What do you hope to contribute to WGU during your tenure?
After a career spanning 40-plus years, I think I can contribute a practical sense of what works and what doesn't. At the same time, I want to say that the leaders at WGU have done a very fine job in growing their business, and there's a lot we all can learn from their success. WGU has a unique model and serves a unique constituency, and there are many opportunities for us to study how they've designed such effective programs. We've also connected with researchers at WGU's Utah headquarters and are collaborating with them on grant proposals. 
In addition, we are connected with North Carolina's education system, including the community college system and Department of Education, and I hope to leverage my time on the board to help connect the dots and share some of WGU's best practices with our state's education system.
What are some aspects of WGU that stand out in particular?
First and foremost, I'm drawn to the fact that WGU, like RTI, is a mission-based nonprofit, and its employees strongly believe in that mission. From where I sit, WGU has earned the Good Housekeeping Seal of Approval. This is a highly credible organization that offers a very affordable quality education.
I'm also impressed by WGU's focus on competency-based education. As a student, you set your own pace. It can be faster, or it can be slower, but either way you're getting the skillset you need and are ready to join the workforce when you finish. In addition, you're assigned a mentor when you begin who works with you directly on your education and what you're trying to do. That is something that I believe helps fuel the high rates of graduation and success that WGU students enjoy.  
What do you see as the most significant economic issues affecting North Carolina and the state's business community?
The rural and urban divide. It is real, and it is worsening. Every North Carolinian, no matter where they live, should be lifted and have an opportunity to lift themselves through education. That's what I love about WGU. So many men and women across the state want a quality education, but they don't have quality institution near them and can't afford traditional colleges and universities. WGU provides them with a high-quality and highly affordable education that fits their schedules and requirements.
Another key issue we face is the state's need to cultivate and grow a healthy workforce. The state has done remarkably well with economic development, even if it's mostly been in the urban areas, and we have many qualified workers for employers. Yet we don't have enough skilled workers, especially in the rural areas of the state, and we need to focus attention, energy and resources on workforce development. WGU fits perfectly into that process. 
Looking back on your career, what are the two or three most important lessons you've picked up that you'd like to share with prospective students? 
As I look back, I see that I went through a good bit in pursuit of my education. Because I was working full-time, I had to complete my MBA at night. I also earned my law degree at night because I didn't have the resources to do it during the day. But two things kept me motivated and, in my opinion, contributed to my success: a love of learning and inquisitiveness. I learned that learning never stops. I'm not too many years from retirement, but I'm still trying to learn. I recommend listening to your colleagues and recognizing that learning is and should be a lifelong process.