The WGU Promise that is communicated to all employees says, "We help our students achieve their dreams for a degree and career success by providing a personal, flexible and affordable education based on real-world competencies."
As part of that promise, WGU works with students to help them graduate with as little student debt as possible. Since 2013 our Responsible Borrowing Initiative has reduced the average amount borrowed per student by 30% and has helped WGU's student loan default rate remain less than half the national average (4.2% vs. 10.1%). 
Another way WGU helps to lower students' out-of-pocket expenses is through scholarships. Nationally, WGU distributed more than $15 million in scholarships last year.
Many North Carolinians are beneficiaries of those scholarship dollars. Since our launch in October 2017, more than $900,000 in scholarships have been distributed statewide. The infographic below contains more information about the total impact of scholarships in North Carolina.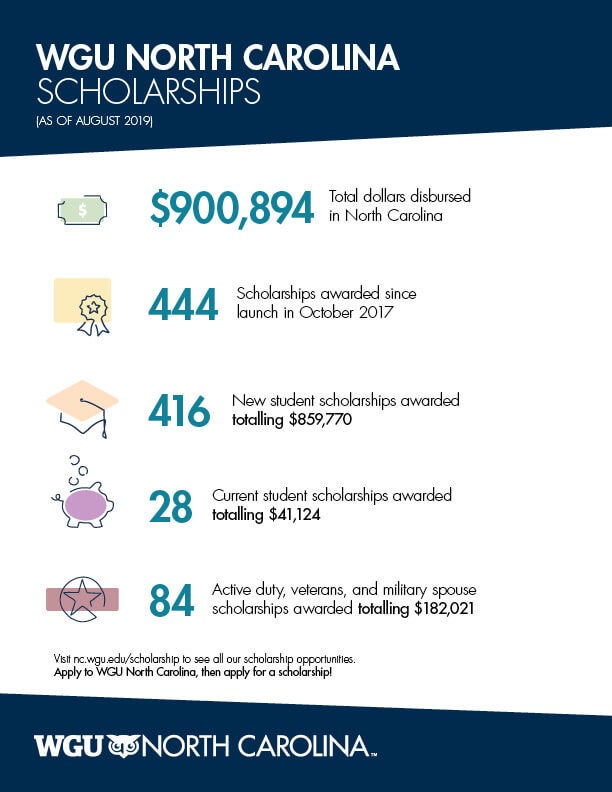 While WGU scholarships are competitive, and many are designated for specific degree programs or particular audiences, they can also be combined with other sources of financial aid to significantly reduce the amount of student debt owed.
WGU's low tuition, financial aid offerings, and competency-based learning model allows students to earn their degrees cheaper and faster than traditional universities. All of those factors go a long way toward fulfilling our promise of helping our students achieve their dreams.