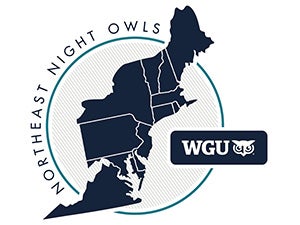 The WGU Northeast Alumni Advisory Council was established in 2020 to provide counsel to Regional Vice President Rebecca L. Watts, Ph.D. on geo-specific needs and trends and to help shape the direction and fulfillment of the university's mission. 
As a nonprofit, accredited online, competency-based university, WGU established the Council to grow and strengthen the university's connections with key stakeholders in the region. Comprised of 13 leaders and influencers from a variety of sectors in the northeast, the Alumni Advisory Council provides insight on the most effective ways WGU can expand access to career-relevant post-secondary educational opportunities from Maine to Virginia.
With impressive, diverse backgrounds, each Alumni Advisory Council member brings professional experience and industry expertise that will bolster the university's ability to serve historically-underrepresented students and ensure WGU succeeds in its principal mission: To expand access to affordable higher education through online, competency-based degree programs that address key workforce needs.
The WGU Northeast Alumni Advisory Council members are:
Lisa Marie Bermudez- B.S. interdisciplinary studies (PreK-8), M.S. mathematics (5-9)
Assistant principal, Harford County Public Schools
Aberdeen, Maryland
Simon Fitall- B.S. business management
Co-founder and CEO, Galileo Analytics
Washington D.C.
Charles Haas- M.B.A., M.A. educational studies, M.Ed. learning and technology
Director testing and learning centers, Mercer County Community College
Trenton, New Jersey
Robin Hill- B.S., M.S. nursing
Program director for the Practical Nurse Program Hagerstown Community College
Hagerstown, Maryland
William Huber- B.S. information technology
Chief technology officer, CDI, 
New York, New York
Marqus Hutchinson- B.S. information technology, M.B.A.
Chief technology officer, Intelligent Waves LLC
Reston, Virginia 
Derrick Johnson- M.B.A.
Vice president and chief diversity officer, Talley Group
Washington D.C.
Melissa Kammer- M.B.A.
Vice president human resources, Charles E. Smith Life Communities
Rockville, Maryland
Sherry Norquist- M.S. nursing leadership and management
Director of corporate social responsibility, Sentara Healthcare
Norfolk, Virginia
Anthony Rivera- B.S. information technology
CEO, Aretec Inc.
Fairfax, Virginia
John Senkow- B.S. information technology network design and management
Director of unified communication, Comcast
Philadelphia, Pennsylvania
Jamie Swann- M.S. nursing leadership and management
Director II, CCC plus, Anthem, Inc.
Richmond, Virginia
Wendell Thomas- B.A. business management
Vice president information technology, Safe Horizon, Inc.
New York, New York
WGU offers more than 60 undergraduate and graduate degree programs in the in-demand career fields of business, K–12 teacher education, information technology and health professions.