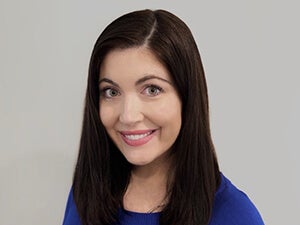 WGU has appointed Emily DeVito as strategic partnerships manager for military outreach, to develop relationships throughout military-affiliated organizations and with individuals—active duty, military spouses and dependents, and veterans—to support workforce development through continuing education. At WGU, 13 percent of students are affiliated with the military.
DeVito comes to WGU with more than 12 years of experience working with military higher education and Department of Defense voluntary education programs. As an officer in the US Navy stationed in San Diego and Japan, she served as her ship's educational services officer to counsel sailors on tuition assistance and G.I. Bill benefits and assist in college-level enrollment. She also administered the Navy College Program for Afloat College Education (NCPACE) while deployed overseas. For the past six years, worked in non-profit higher education military outreach, managing partnerships with external organizations focused on serving the military community and working with military-connected students to find degree paths to advance their careers and transition smoothly into civilian life.
"WGU is proud to be recognized as one of the best schools for military servicemembers, veterans, and their families," said Rebecca Watts, Ph.D., regional vice president of the northeast region. "Emily's role at WGU, and her passion to provide equitable education access to high-quality, low-cost competency-based degree programs to the military community, will make a positive difference in many lives."

DeVito holds a B.A. in sociology from Boston University. She is a US Marine Corps military spouse and enjoys volunteering with military-minded organizations and veteran servicing organizations such as the USO and Operation Gratitude.