FREDERICKSBURG, VA — Online, nonprofit, accredited Western Governors University (WGU) has appointed Fredericksburg resident Tunisha Miles as strategic partnerships manager for military outreach, to develop relationships throughout military-affiliated organizations and with individuals—active duty, military spouses and dependents, and veterans—to support workforce development through continuing education. At WGU, 13 percent of students are affiliated with the military.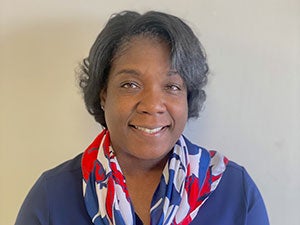 Miles comes to WGU with more than 18 years of human services and higher education experience. She has served in the Air Force and currently serves with the U.S. Air Force Reserves. In her previous civilian role, she was a partnership specialist for Excelsior College, where she developed strong relationships with the military and community colleges throughout Virginia, Maryland and North Carolina areas. Before that, she was assistant director at University of Maryland University College, where she managed daily operations, provided coaching to academic advisors, and collaborated with the Center for Military and Veterans Education office to ensure student benefits and guidelines were understood.
"WGU is proud to be recognized as one of the best schools for military servicemembers, veterans, and their families," said Rebecca Watts, Ph.D., WGU regional vice president of the northeast region. "Tunisha's role at WGU, and her passion to provide equitable education access to high-quality, low-cost competency-based degree programs to the military community, will make a positive difference in many lives."

Since 2002, Miles has served in the U.S. Air Force Reserves and is attached to the 916th Air Refueling Wing at Seymour Johnson Air Force Base. As a reservist, she is chief section lead responsible for overseeing the Community Service Section and serving as training manager within the 916th FSS Unit. Miles earned an associate degree from the Community College of the Air Force, a bachelor's degree in sociology from Fayetteville State University, and a Master of Public Administration from Excelsior College. Miles volunteers for Habit for Humanity, Boys & Girls Club, and at the local soup kitchen and homeless shelter.

WGU offers more than 60 undergraduate and graduate degree programs in the in-demand career fields of business, K–12 teacher education, information technology and health professions