As Michael Gilchrist pursued his B.A. in Interdisciplinary Studies (K-8) and then an M.S. Curriculum and Instruction from WGU's Teacher College, he went from a dedicated aide, to a lead teacher, a vice principal, an academy director, and is now a director at a Washington D.C. non-profit focused on creating career opportunities for adult learners.
He is devoted to making a difference in his students' lives and said of a career in education, "The field needs you as much as you may need it."
For many K-12 public school students, teachers serve as a first introduction to a world outside their homes. Fostering learning environments where students feel secure and can identify with a teacher is vital to helping young learners gain necessary skills and envision their potential for life-long success.
Learning from racially diverse educators provides tangible, relatable role models and positive outcomes for students, such as improved reading and math test scores; higher graduation rates; and increased aspirations to attend college.
Yet there are numerous barriers to recruitment and retention for teachers of color.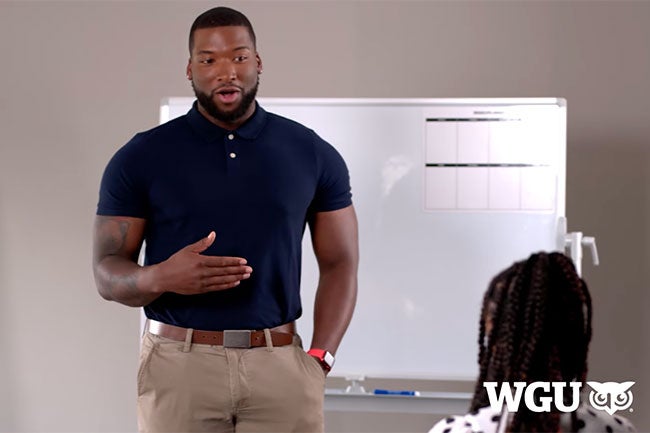 Michael said, "To people who think they don't have the time or money to complete their degree, I would tell them that WGU is the answer. Over the course of a term, which is 6 months, you can take as many courses as you want for just one fixed price."
Committed to strengthening diversity in the educator talent pipeline, Western Governors University's (WGU) Teachers College is in the top 1% for granting degrees for Black and Hispanic/Latinx educators at both the graduate and undergraduate levels. It is second in the nation for combined graduate and undergraduate degrees and credentials for students of color, according to the federal Integrated Postsecondary Education Data System (IPEDS).
By providing education access to people who have a passion to become a teacher but who might not otherwise have the time, resources, and support to do so, WGU is helping them to achieve a dream and make a real difference in their local communities.
Said Michael, "WGU didn't just make me a great teacher. It actually gave me the opportunity to become a transformational leader."