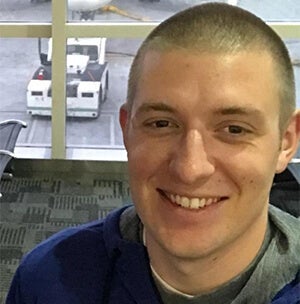 With four children under the age of 7 and a full-time job as an Ohio Highway Patrol trooper, Andrew Charter had little hope that he'd ever find the time to pursue a degree in cyber security—until he found WGU Ohio.
Now he's well on his way to getting his bachelor's degree because WGU's unique education model doesn't hem him in with specific schedules he can't meet and brick-and-mortar classes he can't attend.
"I can make the schooling fit my schedule," says Charter, 31, of Gibsonburg, south of Toledo. "I can study at my own pace and accelerate through the content that I already know and focus on the content that I don't know."
WGU serves more than 4,100 Ohio residents, who move through courses at their own speed and pay a flat-rate tuition for each six-month term. 
Charter went to a state college for several years right out of high school but found his motivation to learn slipped when he had to take classes that didn't interest him. Halfway through he quit, got married and got a full-time job, first in information technology and then, for the last two years, as a state trooper. 
That's when he began investigating how he could learn more about cyber security.
Charter found that not many schools within his price range offered a cyber security degree, and some that did weren't up-to-date with their curriculum. But he learned that WGU's tuition, paired with its numerous scholarships, was affordable enough that he could complete a degree without taking out any major student loans.  
And he concluded that WGU's Cybersecurity and Information Assurance degree had the training and certifications he wanted. So he started taking courses in March 2020, just as the coronavirus epidemic hit, with a goal of completing his degree by the fall of 2021. 
"If I'd been at a brick-and-mortar school, classes would have been cancelled or we'd have had to go online," he says. "Unknowingly, WGU was very well prepared for the coronavirus." 
He didn't miss a beat with his courses, continuing to study at night after his family was asleep. 
So far he rates his experience at WGU Ohio as "awesome." He appreciates the fact that he can focus on mastering what he needs to know to complete a course rather than trying to constantly meet deadlines for homework and other assignments. And he's accumulating certifications as he completes some courses, something he says will help him after he graduates.
Once he obtains his degree he hopes to use his new expertise within the Highway Patrol or with another government agency such as the FBI or the National Security Agency. 
He's eager to move on to his dream job.