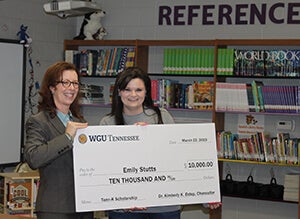 Dr. Kimberly K. Estep, WGU Tennessee's chancellor, presents Emily Stutts with her scholarship.
WGU Tennessee is launching the fourth annual Tenn-K Scholarship for individuals ready to go the distance in 2020 and reach their education goals. Up to 10 Tennesseans will be awarded $10,000 scholarships to use toward their degree, which for many students covers nearly 75% of tuition costs.
For Thelma Barker Elementary School teacher Emily Stutts, the Tenn-K scholarship meant the ability to open new doors in her field by pursuing her master's degree in educational leadership in the Jackson-Madison County School District. 
"I have wanted to take the next step in my career since I discovered my passion of helping up-and-coming educators develop into the best teachers and leaders they can be," Stutts said. "I have a strong desire to be a leader in the educational field, and I'm so grateful for this scholarship and the opportunity to pursue my master's degree."
She applied for the 2019 Tenn-K Scholarship in hopes of taking the next steps with WGU Tennessee to accomplish her goal of becoming an administrator within the Jackson-Madison County School District, and to be a leader to teachers developing their craft. 
The scholarship award enabled Stutts to begin her master's program and take the necessary steps to accomplish her goals. 
"It's always special to acknowledge the hard work of professionals who have chosen to go back to school with our annual Tenn-K Scholarship," said Dr. Kimberly K. Estep, WGU Tennessee's chancellor. "Emily is a dedicated and well-loved teacher, and we're honored to be part of her journey."
Those interested in the Tenn-K Scholarship have until April 1, 2020, to submit their application. Eligible applicants must be current residents of Tennessee entering any of the degree programs offered by WGU Tennessee. Each scholarship is valued at up to $10,000.