The expression "like mother, like daughter" is fitting, to say the least, when describing the mother-daughter duo of Kim Slaughter and Chloe Smallwood.
The Chattanooga-area family is all-in with WGU Tennessee. As a program mentor in WGU's Teachers College, Kim — a former Sequatchie County elementary school teacher — supports students with everything from program instruction and guidance to recommending appropriate student services for different needs.
While Kim is helping WGU students achieve their academic goals, her daughter Chloe is pursuing a master's degree in business marketing at WGU Tennessee. The mother and daughter are on two different paths within the university, but have made it an essential part of their family.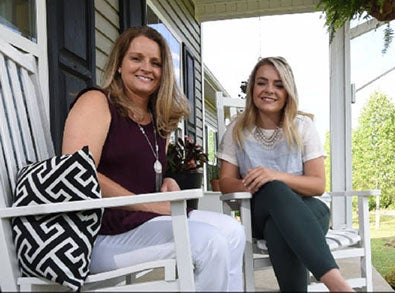 Kim and Chloe relax on their front porch during a photo shoot for feature stories in EDGE Magazine and its parent, the Chattanooga Times Free Press.
Kim says mentoring students brings her some of the same joys and personal connections that made her want to become a teacher. "I feel like we're old friends," she said. "I'm very close to my students."
Chloe, on the other hand, loves that there are plenty of people at WGU willing to help her on her academic journey. She says her biggest fear going into the program — despite having a firsthand glimpse through her mother's job — was that she would be on her own. She quickly found out that help was just one email or phone call away.
Kim and Chloe took two different routes, but they both made WGU their destination. The appeal of working from home while being able to raise her younger children is what appealed to Kim. For Chloe, the flexibility that allows her to work full time is what mattered most.
Both mother and daughter agree that WGU Tennessee is a convenient and important tool for their busy lifestyles, and the university is happy to have them as part of its Tennessee family.
Read EDGE Magazine's full profile of Kim Slaughter and Chloe Smallwood.