As a teacher in the pre-allied health program at Brighton High School in Brighton, Tennessee, Lori Witherington encourages her students to keep educating themselves, no matter the challenges.
Deciding to go back to school can be difficult. But for Lori, going back to get her Bachelor of Science degree in nursing was about taking a dose of her own medicine.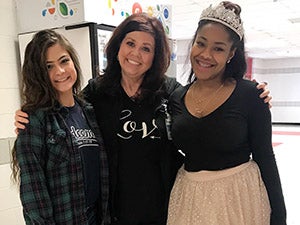 "It really started as a 'you know you can do this' mentality, and then it became an 'I want to do this' mentality," said Lori. "I love teaching and I would like to be able to continue teaching my students after they graduate high school at a community college or technical school."
However, in the spring of 2015, Lori's path to graduation was delayed when she was diagnosed with colon cancer. She took a break to focus on her health, and after surgeries, radiation treatments, and two years, she returned to school to finish her degree.
"WGU Tennessee was so gracious," said Lori. "I was afraid after taking that long off that they wouldn't have room for me and I wouldn't be able to come back, but they have been so wonderful," she said.
Lori graduated with her Bachelor of Science degree in Nursing in 2017, and is now on the path to obtaining her master's degree in nursing education from WGU Tennessee.
"Sometimes I think at my age, what am I doing in school? But this is something I've always wanted to do," said Lori. "It's important to me, and I'm doing great."
Over the next several years, Lori said she hopes to finish her master's degree so she can take her education of future nurses to the next level by becoming a post-secondary education teacher.
"I always tell people don't wait. Don't put it off or worry about the money," said Lori. "If you're going to care for 21st century patients, then you need a 21st century nursing education. It takes the extra curriculum like they offer at WGU Tennessee to learn how to care for patients."