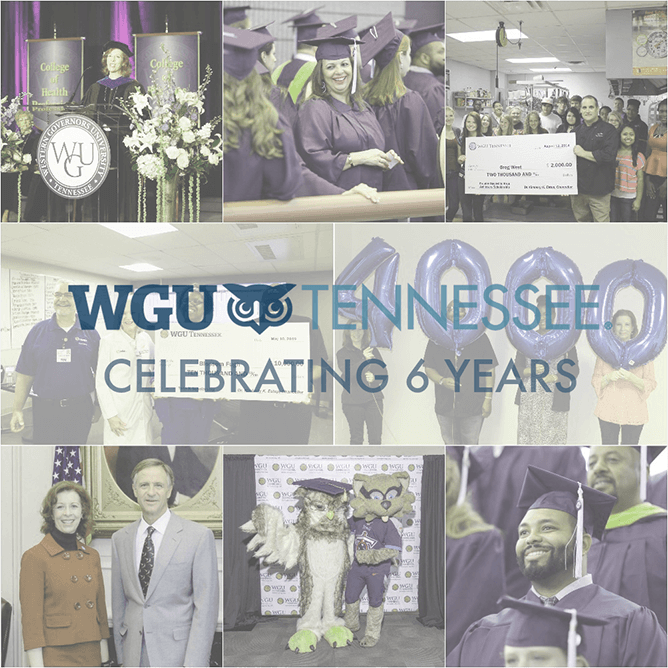 Since our launch six years ago, WGU Tennessee has been dedicated to expanding higher-education access across our state. Each year has brought more scholarships, employees, and partnerships, extending our reach from Memphis to Mountain City and everywhere in between.
With more students and graduates than ever, we're taking a look back at the accomplishments we're most proud of over the past six years.
1. Provided more than $2.5 million in scholarship funding.
Since launching in July 2013, WGU Tennessee has been dedicated to ensuring affordable access to higher education for Tennesseans. In just six years, we have provided more than $2.5 million in scholarships for our students. Our priority is to help our students graduate with minimal student debt – or none at all. 
2. Conferred more than 4,300 degrees.
In addition to more than 4,300 graduates in the past six years, WGU Tennessee has more than 4,400 students currently enrolled in our degree programs for business, information technology, K–12 teacher education, and health professions. Each program is top-of-the-line and is constantly being updated to reflect the ever-changing needs of these industries. 
3. Reached all 95 counties in Tennessee.
Our mission at WGU Tennessee is to help Tennesseans throughout the state obtain an affordable, high-quality education. Since opening, we have enrolled students in all 95 counties in the state of Tennessee. As a part of the Drive to 55 initiative, we are proud that more than 40 percent of our graduates are first-generation college graduates. 
4. Partnered with more than 55 companies and institutions.
In the past six years, we have partnered with numerous companies and institutions, including all 13 of Tennessee's community colleges and Tennessee Colleges of Applied Technology. Our community college partnerships ease the process of transferring credits and increase accessibility to four-year programs. By working together with other businesses, we are able to create a better experience for both our students and their future employers, right here in Tennessee.
5. Decreased student loan debt by 40 percent.
The prospect of taking on student loan debt is a key factor for many people when considering postsecondary education. At WGU Tennessee, our average student's debt at graduation is $15,000 – less than half the national average.
6. Became one of the largest higher-education institutions in Tennessee.
Since our launch, WGU Tennessee has become one of the 30 largest institutions of higher education in the state of Tennessee. This is no small feat in a state with more than 180 universities, colleges, and trade schools. We are also proud to be the third-largest private, nonprofit university in the state.
And we're charging ahead. For every student and grad, there are hundreds or thousands more in our state who are eager to earn their degree. To help them do it, we've launched the WGU Tennessee 6th Anniversary Scholarship, each valued up to $6,000, covering nearly 40 percent of most undergraduate degree programs' tuition!
To learn more and apply, visit tennessee.wgu.edu/6th.