Current Position: Vice President of Clinical Services at HealthTrust Purchasing Group/Nashville, Tenn.
Hometown: Nashville, Tenn.
Career Journey: Starting at 2010 latest and up to starting year of current position.
2010, Assistant Vice President of Clinical Operations, HCA/Nashville, Tenn.
2019, Vice President of Clinical Services, HealthTrust Purchasing Group/Nashville, Tenn.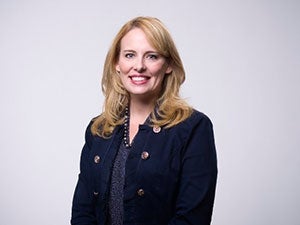 Career Journey 
Why did you choose to pursue a degree?
I've always enjoyed leadership positions because I love people, making connections, problem solving, and innovation. In these positions, it felt like everyone around me had a master's degree and I didn't. I wanted to feel more comfortable, confident, and engaged in conversations with my peers and colleagues who held financial and business degrees.
Why WGU?
With three kids who were just a few years away from going to college, I felt like my advanced education opportunity ship had sailed. My financial focus was centered on them and their college experience, not mine. However, that responsibility did not take away the desire to obtain my MBA. As I researched HCA's education benefits, I found I was able to complete my MBA at WGU in 10 months with very little cost out of my own pocket. In addition, I could do this on my own time schedule and pace.  
How has WGU improved your career?

I gained more confidence in myself and felt very comfortable sitting at the table with others who had more education in business administration. I was able to understand their perspectives and make more informed decisions based not only on my clinical expertise but also on the financial and business aspects of a project. Most importantly, I feel WGU helped improve my value to the organizations in which I serve. I can be a better asset to the organization when I am my best self.  
What is the takeaway you would impart to potential WGU students?

If you're on the fence about completing your master's, just do it. There is never a perfect time, and getting started was the hardest part. I enjoyed the classes, learned a lot, and especially love the additional letters behind my name! Once you begin your program, before you know it, you're done. WGU's program is great for parents with a career because it allows flexibility with your class schedule so you can balance all the other busy aspects of your life. In addition, WGU students receive a coach to help with accountability and motivation.  
I'm a nurse by training and love solving problems. I always thought, as a nurse, I needed to become either a nurse practitioner, a physician, or a Ph.D. in nursing; but I fell into administration and leadership by accident. I wish more nurses and clinicians who understand the front lines of hospital operations would consider pursuing an MBA at WGU Tennessee to provide helpful insight as leaders on the business side.