WGU Texas business school graduate Anthony Roy earned two degrees at an exceptionally fast rate and avoided student debt. While he doesn't recommend that others attempt his exhausting academic pace, he speaks highly of the experience. Roy is now going after his dreams as a successful small business owner.
Two years ago, 22-year-old Anthony Roy of Tomball, Texas enrolled in a Houston area junior college. He wanted to increase his long-term earning power and launch his own business someday, and knew that meant earning a business degree and MBA. He worked full-time while attending college and was not looking forward to the long slog to the finish line.
With a passion for marketing, Roy admits the powerful WGU Texas TV ads featuring graduates watching their names called out during a live televised commencement ceremony appealed to his flair for marketing.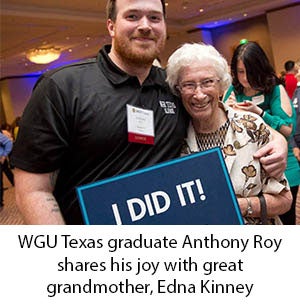 "Honestly, before the funny talking owl ads, the late-night commercials where graduates watch their names on the TV screen during commencement and then celebrate with families really moved me and stuck in my head."

After some extensive research, Roy enrolled in WGU Texas. He liked that it is flexible, accessible and affordable, but also because it is nonprofit and competency-based, and would allow him to accelerate through the program at his own pace.
And going after his degrees at an exceptionally fast rate is exactly what he did! With a 40-hour workweek at an insurance office, Roy devoted an additional 30 hours a week for school. His 70 hour weeks went on for 16 months, except for a small break to enroll in the WGU Texas graduate program in business management and leadership after completing his Bachelor's in Business Management.
Roy, who is single, said he would not recommend others working these brutal hours. "The material was rigorous and I did not have much of a life outside of work and school," he said. However, it was a huge relief and major sense of accomplishment once I was done."
Roy attributes his success to the help of his faculty mentors. "I could have never done this without the support of WGU faculty members Kara Mendoza and Jen White. They not only served as my cheerleaders, they guided me through the challenging material and kept me focused."
Roy's hard work paid off. At the ripe old age of 24, he has earned two degrees and is the owner of Agent Rescue!, a licensed business consulting firm that helps companies, like insurance agencies and real estate brokerage firms, flourish. This summer he is preparing to open a real-estate brokerage firm and is considering enrolling in another master's degree at WGU Texas.
Congratulations Anthony!