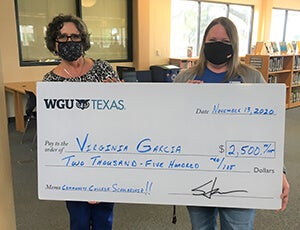 WGU Texas' Kolette Palacios awards the Community College Scholarship to Virginia Garcia.
"I am not done learning and I am not done climbing. I just need a different tree." --Virginia Garcia
For WGU Texas student Virginia Garcia and many others, the COVID-19 pandemic has changed our perceptions and perspectives about life. While working as a librarian and raising a family, Virginia found it was also the right time to make new choices—those that would challenge her in a new career and impact her family's financial future.
Virginia works as an adjunct librarian at a community college while pursuing her degree, which made her eligible to apply for and receive the WGU Community College Partner Scholarship. In this Q&A, she explains how she found her passion for data assisting and library science and followed her passion and instinct to pursue a bachelor's degree in computer science from WGU Texas. 
Q: How did you develop your interest in your field and major and what have you gained from your experience?
A: Before becoming a school librarian, my first true 'grown-up job' was as a database assistant at the university I was attending for my bachelor's degree. This position required specialized training on a proprietary database and I traveled out of state on two occasions for training. It was fascinating to learn the intricacies of how this database functioned. 
Fast forward through my master's degree in education and four years as a classroom teacher, and I was teaching at an alternative high school. It wasn't the right fit. Back to school I went to focus on a degree in information science.
Q: When did you know you wanted to pursue this degree? What makes the timing right to pursue your degree? 
A: The gnaw…you know, that feeling that you should be doing something else, but life is crazy with small children at home, working two jobs, and keeping a household running. But you still have this underlying feeling there is more you can do with your life. That's me, and it's been me since I became a teacher. I always felt capable of doing so much more and it has been frustrating to have worked so very hard for so long to earn my degrees and think this might be as good as it's going to get. 
Then there was the pandemic. It arrived and we were suddenly teaching and schooling from home. This quickly puts life into perspective. I thought, now is the time for choices. Now is the time for a challenge and a new career that puts my family into a better financial position in the long run.
Q: What are your short- and long-term career goals, and how will earning this degree contribute to achieving those goals? 
A: In the short term, I want to spend my time wisely completing my degree as quickly as possible while working full time for my school district and part time in the evenings for my local junior college. I hope to collaborate with the technology department for my district to apply what I'm learning to their workload and see how it correlates. I anticipate transitioning from a campus-based professional to working in the IT department at a school district or college/university campus. 
In the long term, I want to be a project manager or consultant where my expertise can help advance a major organization, such as SpaceX or NASA. My interests are in the advancement of the space program and I anticipate that with the benefit of this degree program, I can use the skills and experience to make a difference in a field I wholeheartedly support and wish to succeed in. Without a computer science degree, I would not be able to advance to a position outside of the school library. I have reached the limit to what I can do professionally. I am not done learning and I am not done climbing—I just need a different tree. The computer science program offers opportunities I had not considered and I am grateful for the advancements and accessibility of distance education. WGU is making it possible for so many to earn their degrees.
Q: What are the skills and traits that help you overcome obstacles?  What experience or accomplishment are you proud of?
A: As an educator, I have learned so much about myself. It is a difficult job and one in which you must learn the hard way. Consider it a trial by fire. I've taught elementary, high school, and college levels, and they all require the same: patience, resilience, and flexibility. When it doesn't go the way you thought, you can't just quit. You adjust and move on because another class is starting in four minutes. Work is hard but your reactions say a lot about your character. 
One accomplishment I am especially proud of is completing my master's in education while completing my first year teaching. I had no idea what I had gotten myself into when I accepted my first teaching job. The assignment was 12th grade English in a small rural district an hour away from home. I had a one-year-old at home and in-person classes at night to complete. I didn't know what I was doing, spent most of my free time driving, and hardly saw my daughter at all. I was barely keeping my head above water and had no connection to the students who were not as welcoming to an outsider. I quickly learned I needed to put in more of my precious time outside of school to attend extracurricular events to gain trust and buy-in. Nothing I did seemed to work. I was miserable and didn't know what to do. 
But I kept trying. For months. It didn't seem like I was making any headway until we started reading Hamlet. I was finally able to incorporate some non-traditional pieces into my instruction and I finally had them. It was a turning point. We were working together and I felt the connection. The rest of the year was much smoother, and as I celebrated their graduation, they also celebrated mine. Three of my students made the journey into the big city to attend my graduation and celebrate with me. I keep that photo on my desk to remind me of the hardest year of my life and the power of those connections. 
If this story resonates with you or if you've been looking for a turning point in your career, WGU Texas offers over 60 bachelor's and master's online degree programs. Learn how to get started toward a brighter future today.