Born and raised in South Africa, Katherine Schade immigrated to the United States in 1987. From an early age, she was exposed to the medical profession, volunteering alongside her mother at a Hospice care facility. Her mother grew up in a rural farming community in South Africa, without easy access to medical care. Katherine was influenced by her mother's knowledge and use of alternative, herbal medicine and finding the root causes of illness and pain. Her volunteer days at Hospice, her mother's influence, and a pivotal life experience would eventually lead her to pursue a Bachelor's in Nursing from WGU Texas.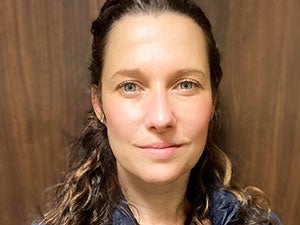 When Katherine first enrolled in college, an accident while working on a car eventually lead to years of chronic hip pain and decreased mobility. She studied massage and learned about body mechanics and structure and worked in a spa where she learned therapeutics. Through dance, yoga ,and massage therapy, Katherine "grew a more intimate understanding of my own body and how to encourage healing with more modalities beyond medications."
After ten years of opening and managing a massage clinic that focused on helping patients with chronic problems, Katherine's desire for continuous learning drew her to learn more about healthcare systems in the U.S. When working as a travel nurse, Katherine learned about WGU from colleagues. "Everything they said about WGU has turned out to be spot on. Affordable, approachable, challenging, and encouraging."

When Katherine decided to return to school during the pandemic, she was a registered nurse, and a mother of three. With WGU's flexible, self-paced programs, she could create her own schedule of courses, which was what she needed to earn a degree. Now that she has completed the program, Katherine was selected for the lead nursing position at her hospital as the House Supervisor in the ICU, "This would not have happened without WGU."

Katherine is self-motivated to further her education and career, and thankful for her support system, which includes her husband, children, her mother, and brother who cheer her on. Katherine also attributes her success to her WGU Program Mentor. "I found my mentor to be crucial to my success. She checked in with me, helped me set goals, and cheered me on. During the pandemic, she was especially supportive of the stressful work environment."

Now equipped with a BSN degree, Katherine is eager to tackle her next venture. She is currently working towards earning a Master of Science Family Nurse Practitioner (FNP) program, "They [WGU] make it affordable and attainable. I decided to work towards this degree now because I have a vision and WGU aligns with it." Katherine's long-term goals are to provide a full spectrum of healthcare and blend eastern and western modalities.

It's projected that more than 1 million registered nurses could leave the workforce by 2030. WGU is working to find solutions to the nursing shortage by providing degree programs and pathways for the next generation of healthcare professionals. Quality and readily available care should be available for communities across the country, and WGU will continue to help students like Katherine pursue fulfilling careers in healthcare.