Adult learners often cite job security, career goals, economic success, and personal growth and fulfillment as priorities for earning a college degree. And employers are increasingly seeking employees with industry-specific technical and soft skills, such as writing, communication, and organization, to meet their needs.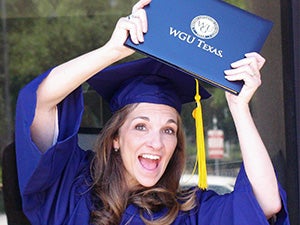 For most jobs, this means acquiring a variety of soft and professional skills to succeed in the workplace. Earning a degree can also be a career changer or career enhancer and help to fulfill personal and professional goals. But many adults and nontraditional students often have to juggle work, study time, parenting and other commitments, rather than focusing solely on college life. Going back to school becomes a greater challenge.
Distance education and online learning can remove many of the common obstacles to earning a degree: time, cost/affordability, flexibility, and commitments of a complex life.
Time. Online learners have more control and flexibility over where and when they choose to study than a traditional student stuck in a campus classroom. When it comes to creating a successful study environment, carve out a dedicated study space at home, and you'll also save on transportation costs, travel time, food and drinks. If you work full-time, ask for recommendations for a quiet place to study during breaks or lunch.
Search for accredited schools that offer accelerated programs. WGU's competency-based academic approach (CBE) is dedicated to producing highly competent graduates. Instead of basing progress on credit hours and seat time in the classroom (physical or virtual), students demonstrate skills and knowledge (competencies) in specific subject areas, allowing them to accelerate through the program, saving time and money. With prior college courses, related work experience, accelerated programs and CBE, students can graduate earlier than a traditional four-year program.
Cost/Affordability. While traditional, brick and mortar bachelor programs can cost $30,000 to $50,000 (Best Value Schools), students at many online colleges spend 55% or less for the same education. Many online colleges and universities offer scholarships to help offset tuition and employers may offer tuition assistance programs that help pay for college courses. Check with your human resources department to learn if your company offers assistance. And with no housing costs or textbook fees (many online courses include e-books), online is even more affordable.
Flexibility. Learn at your own pace from anywhere at any time—online gives you the ability to take classes that fit your schedule and balance classes with your full-time job and other commitments. Online colleges that offer accelerated programs or flat rate tuition let you speed things up (take as many classes during a term for the same fee). WGU also provides one-on-one support to help guide and instruct students through the program and keep them on track. For students with disabilities, online resources remove many of the accessibility barriers to education.
The Bottom Line. Online colleges allow you to earn an accredited degree for far less while keeping your sanity. You'll learn what you need to succeed while meeting your own personal goals and aspirations. Your diploma will mean you've mastered the essential skills and knowledge the workplace demands—and that you've proved it.